Telegram, an instant cross-platform messaging service with over 700 million active monthly users, has achieved its growth solely through word-of-mouth. And with intrusive privacy policy changes for WhatsApp and Facebook Messenger in recent years, Telegram has seen rapid gains in user count across the globe.
Founded by Pavel Durov in 2014, Telegram has strongly emphasized privacy and secure communication through end-to-end encrypted chat. Like other messaging platforms, it lets you connect through usernames and phone numbers in one-on-one or group conversations, audio, and video calls, and share images, videos, documents, stickers, and other files.
Odds are most of you are fed up with WhatsApp's recurring privacy scandals and its ties to Meta and have finally jumped to Telegram as your primary mode of online communication. But one thing you just can't wrap your head around is where the Telegram app for Android stores your downloaded attachments.
Where does Telegram save files on Android, exactly? And how does one find them? Continue reading to learn more.
Where does Telegram Save Files on Android?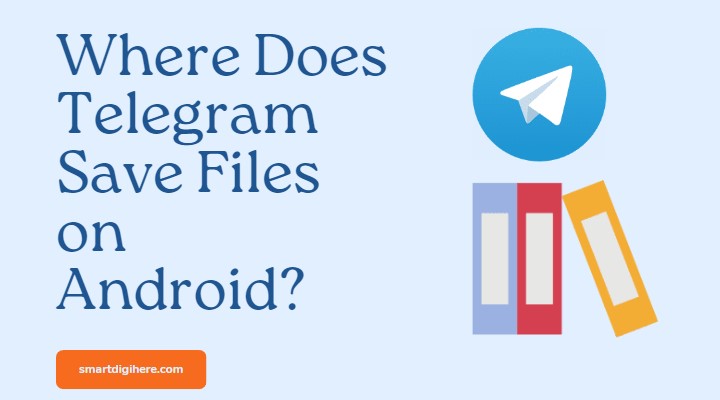 Where is telegram file stored? The client portion of Telegram is open-source, so multiple Telegram apps are available for Android. However, chances are most of you have been using the official app from Telegram FZ-LLC on Play Store, so we'll refer to that.
Telegram is set to auto-download and save media, such as photos, videos, GIFs, and audio clips, over Wi-Fi or mobile data by default. Usually, these files find their way to dedicated folders on your device's internal storage. Go to the Gallery app on your Android device, and the images and videos should appear under the "Telegram Images" and "Telegram Videos" folders.
Other attachments like documents, APKs, and uncompressed media files under 100 MB (which can be set manually to up to 4 GB) download automatically over Wi-Fi. Telegram doesn't store them in folders visible to users, even though you can access the files via the app. However, you can save them manually – as we'll show you later.
First, let us show you how to find the media files the Telegram app saves in different folders of your Android device's internal storage:
Open your preferred File Manager app on your Android device. We recommend using the Files by Google app for its ease of use and simplicity, but feel free to stick with the one preinstalled on your phone or tablet.
Choose "Internal storage" under storage devices, then scroll down and tap Telegram.
In the following directory, there should be a subfolder for every kind of media auto-saved by the app, such as:

Telegram Images
Telegram Video
Telegram Audio
Telegram Documents

Visit one of the following subfolders to find the file you wish to access.
You May Like: XMEye on Android TV
Fix: Can't find media / Telegram folder in Internal Storage
If you're unable to find or download received files in the Telegram app, the first thing you need to do is ensure it has access to the device's internal storage. Here's how:
Go to the Settings app and select Apps or the equivalent option.
Choose Telegram under the list of recently opened apps. Or tap "See all" and select the messaging app.
Tap Permissions on the "App info" screen and make sure "Storage" or "Files and media" is allowed.
The following steps should resolve your problem. As for those who don't see the Telegram folder on the root directory of their device's internal storage, it's not a bug. With the notable subsystem changes introduced in Android 11, the folder location for Telegram and other apps has also changed.
Provided your phone or tablet runs Android 11 or newer version, open your File Manager app and navigate to the Internal Storage > Android > media > org.telegram.messenger folder. You should see the Telegram folder with all the subfolders for different media.
Note: If you're using the Telegram X app on your Android app, you have to save received files manually, as the current version (0.25.1.1560 at the time of writing) doesn't auto-save media.
Video Guide For Telegram Files not showing Problem (Solved)
Check Out: Zwift on Android TV
Steps to Manually Save a file in the Telegram Android app
As mentioned before, you won't find some files in the Telegram folder or uncompressed media in your Gallery app. Instead, you'll need to download or save them manually. Use these steps to do so:
First, open the Telegram app on your Android device.
Next, find the media, document, or file you want to save manually in your chat, group, or channel.
Tap the kebab (three vertical dots) icon on the right corner of the attachment bubble.
Select the "Save to…" option in the floating window.
If you save an image, video, or GIF, it should appear under a separate "Telegram" folder in the Gallery app.

Alternatively, open your File Manager app and navigate to your device's internal storage directory. From here, you can head to your Download, Music, Pictures, Movies, or Recordings folder and open the Telegram subfolder to view the particular file you've saved manually from the app.
Note you're free to copy, move, or delete the files using your file management app. Saving a file manually in the Telegram app only saves a clone. You'll be able to access and re-download the files anytime you want, assuming you've set Telegram to keep your files in the cloud indefinitely.
See: Install CCleaner on Android TV
Managing Telegram files on Android
If you're concerned about the Telegram app using too much of your Android device's storage, use the app's built-in storage manager. Here's how to access it:
Tap the burger (three horizontal lines) icon at the top-left corner of the Telegram app.
Select Settings, then navigate to the Data and Storage.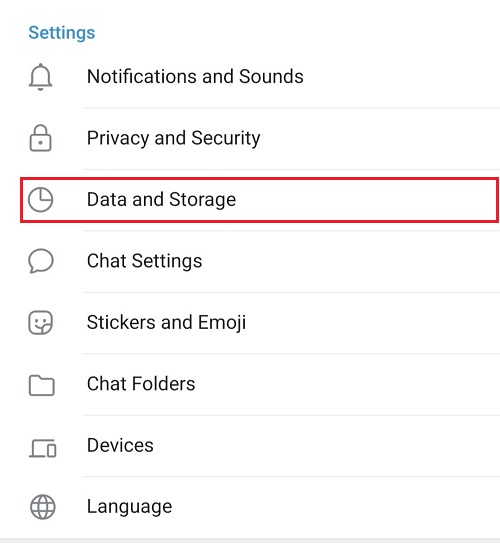 Tap Storage Usage at the very top. You should now see what types of files occupy device storage, with options to remove them and clear the cache.

You can also set a schedule to auto-remove cached media from private and group chats and the channels you follow. Plus, you'll find the option to set a limit for the maximum cache size for the Telegram app, which is on "No limit" by default.
Conclusion
By this point, those wondering where Telegram saves files on Android have found their answer in this guide. Besides telling you where to find them, we've also explained the process of saving select files manually via the Telegram app.
It's worth mentioning that Telegram doesn't auto-save media shared in "secret chats", even if you have the "Save to Gallery" option enabled from the app settings. That said, If desired, it's possible to manually save images from secret chats without informing the sender.