In the past, media on physical disks used to take up a lot of space in our living rooms. However, in this day and age, managing, maintaining, and accessing digital media has become easier.
If you're in the market for a media management suite for your home media server, odds are you've heard of Plex. For many loyal users, it has been a reliable software for organising and streaming their personal media library across devices.
However, lately, Plex has lost its way with the addition of live TV, arcade gaming, and a movie rental marketplace. Not just us – a majority of the Plex community echoes this sentiment about the software leaning towards paid membership.
Some of you may be looking to explore Plex's big competitor, Jellyfin, a free and open-source media management tool that we've repeatedly praised and covered in our posts recently.
In this comparison guide, we'll dive into the similarities, differences, strengths, and weaknesses of Jellyfin vs Plex, so you can decide which fits you best. Let's get started.
Jellyfin vs Plex: Side-by-Side Comparison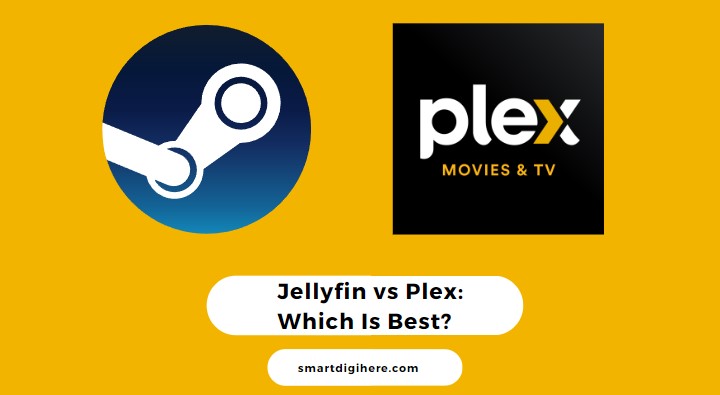 | | | |
| --- | --- | --- |
| Features | Jellyfin | Plex |
| Software Type | Free, Open-Source | Freemium, Closed Source |
| Hardware Transcoding | Yes | Yes (Plex Pass) |
| Bandwidth Limit | Yes | Yes |
| Plugins | Yes | Yes |
| Multi Users | Yes | Yes |
| Library Sharing | Yes | Yes (Plex Pass) |
| Downloads | Yes | Yes (Plex Pass) |
| Live TV and DVR | Yes | Yes (Plex Pass) |
| Group Sync Viewing | Sync Play | Watch Together |
| Compatible Devices | Windows, macOS, Linux, Android, iOS, Amazon Fire TV, Kodi, Roku, webOS, Xbox One, Xbox Series X/S, Docker | Apple TV, iOS, macOS, Amazon Fire TV, Android, Android TV, Chromecast, PlayStation, Roku, Sonos, Meta Quest, webOS, Tizen, Windows, and Xbox |
| Pricing | Free | Plex Pass (Optional) |
| Customer Support | Community Forums | Forums, Official Support |
Jellyfin vs Plex: Device Compatibility
Plex is great because you can use its app to stream your own ripped DVDs and Blu-rays on different devices, such as your phone, tablet, smart TV, game console, or VR headset. The official Plex app even supports Android Auto, but only for audio files.
That's because Plex is a for-profit company, which means they have money to pay developers to make their app work on different devices and get it listed on the respective app stores. As a result, Plex offers more features and convenience than an open-source project.
For instance, you'll find dozens of streaming apps for the PlayStation 5, and Plex is the only one for self-hosted media.
Jellyfin also has official apps, which is impressive considering they're free and open-source. However, some of their apps are just web browsers that access the standard web interface. While it works in most cases, there are limitations. For example, when using Jellyfin on an Xbox, it's clear that this approach doesn't work for every situation.
The Jellyfin team is trying to address this problem. Currently, there are two official Jellyfin apps available for iOS. The first is Jellyfin Mobile, which uses the standard web interface. The second is Swiftfin, a newly released app that doesn't rely on a browser.
The latter is limited to basic library browsing and playback for now. It's just the beginning, though, and unlike the web browser version, it works natively on Apple devices. Hence, it could help expand Jellyfin's features in the future.
Read also: How do I get Jellyfin on my Samsung Smart TV?
Jellyfin vs Plex: Server Setup
Having apps for media streaming doesn't matter if you have no content to stream. Luckily, setting up both Plex and Jellyfin is easy. On a Windows computer, you run an app and follow simple on-screen instructions. All you need is to be familiar with File Explorer to direct the server app to the correct folder(s) containing your media files.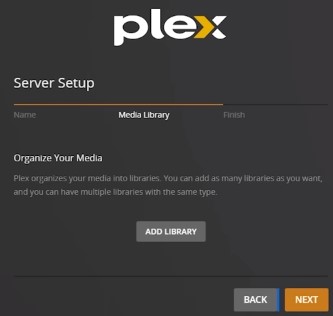 Setting up Plex or Jellyfin on Docker requires slightly more effort, but it isn't any more tedious than setting up any other Docker image. You need to choose between the Linux server image and the official image. Both options are acceptable, but the Linux server image has slightly different configurations than the stock version.
After the initial installation, you can proceed with the rest of the setup by accessing the server through a web browser on any device connected to the same network.

The only situation where there's a big difference in server installation is with FreeBSD. Plex supports it, but unfortunately, Jellyfin doesn't, which is disappointing news for TrueNAS CORE users.
Jellyfin vs Plex: Library Setup
Setting up your media library on Plex or Jellyfin is straightforward, with only minor issues encountered with a few titles.
For instance, Plex may not detect some Blu-ray rips properly. The same goes for Jellyfin. However, Plex makes it easier to apply metadata as it offers recommendations for the unrecognised titles, while on Jellyfin, you'll have to set it manually using MovieDB. The good news is that both platforms will automatically download subtitles for scanned content, which is a significant benefit for accessibility.
Both Plex and Jellyfin don't automatically handle disc special features and extras. You must move the files to a specific folder and manually enter their metadata. Unfortunately, both platforms lack a better resource for cataloguing home-release extras. It can be challenging since there are many extras and different regions, or even separate releases of the same movie in the same region may have varying content.
Jellyfin vs Plex: Filtering
Jellyfin's content filtering works well on Android and web clients. The UI is easy to navigate, with multiple options from different filters or the same section. However, on Google TV and Apple TV (Swiftfin), you have limited filtering options, and it's nowhere near as effective as on other platforms.
Plex and Jellyfin have different approaches to content filtering. Plex has more options but is buggy on TV. Plus, you need to go into the section for the type of media you want and then into the Library tab.
Jellyfin's default view is less demanding and allows easy access to different library types, media to continue watching, and the latest library additions. Filtering through movies or shows doesn't require multiple menus or clicking around the interface.
Jellyfin vs Plex: Parental Tools & Account Management
Jellyfin features a solid parental control system, with options to restrict libraries by account and set maximum parental ratings. These ratings are translated well across different regions.
Plex has a neat Managed Accounts feature, offering four restriction profiles: Younger Kid, Older Kid, Teen, and None. However, users can't customise the existing profiles or create new ones, which is an oversight. It lets you share your library with friends and family, but they won't have much control without Plex Pass.
With Jellyfin, you can create a separate account for each person, similar to Plex's Managed Accounts, but they can't choose their own username or recover their account if they forget their password.
Jellyfin vs Plex: Player & Plugins
The video players differ between platforms. The Plex web client offers several options, such as changing subtitle styles, creating playlists, and downloading files. Jellyfin has one unique feature, which is showing the end time of a video.
Jellyfin and Plex can skip intros but use the same flawed method to detect them. They compare the audio between episodes and sections. If it matches a rule set, it's flagged.
However, the approach isn't perfect, especially for shows with opening gags and variations like The Simpsons. A better solution would be to combine this method with scene recognition and let the user adjust it on a per-show basis.
Plex only detects intros longer than 20 seconds and only in the first half of an episode. On the other hand, Jellyfin's intro skip is more customisable but requires installing a plugin. However, the "Skip Intro" button works only with the web UI. It's okay for the browser-based clients but not for native apps like Swiftfin on iOS and Apple TV.
It's unclear if the native apps will support intro skipping going forward. Since open-source implementations already exist, the developers could use them to speed up development. However, Jellyfin is a free and open-source platform – so expect slower development cycles. We should appreciate their efforts.
Check out: Chromecast Jellyfin
Jellyfin vs Plex: Mobile Downloads
When it comes to standard Android mobile devices, the main difference between the two apps is the ability to download content. Plex's offline mobile access lets users download videos at any resolution and bitrate to watch on the go, marking them as watched once back online. However, this feature requires a Plex Pass subscription.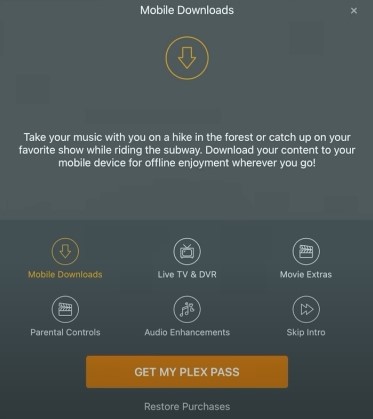 Plex's mobile download feature can be unreliable, with various issues that make it frustrating to use. Downloading videos via the Android app, the original quality works well enough, but it can quickly take up a lot of phone storage.
Attempting to download transcoded videos is where the problems really start to show. Downloads can fail, leaving the user with the terrible design of needing to retry manually.
Sometimes, Plex may show that a download has finished even though, in reality, it has downloaded nothing. Such problems are exacerbated further by not using hardware transcoding, which can be hard to verify whether it's even working.
iOS users have reported encountering problems while downloading media through Plex, with frequent crashes being a common issue. Those using a firewall with DNS Rebinding or NAT Reflection might also face issues due to the security certificate attached by Plex, which leads to an unsuccessful transfer. It has been a known bug since Plex switched its Mobile Sync feature for offline downloads in 2021.
Jellyfin doesn't have a sophisticated offline viewing feature, as it only allows downloading the original file without keeping track of the viewed content. However, with the transition to native apps, offline playback is now possible as it can use the system's built-in video player without requiring a webpage for the UI.
While unofficial apps like Findroid enable offline viewing and episode updates, they don't support transcoded versions, leading, once again, to storage limitations. Nonetheless, this serves as a basis for the Jellyfin team to build on.
Offline viewing is the most requested feature on Jellyfin's board, and the team is actively working on it, even though there's no ETA yet.
Jellyfin vs Plex: Google TV Experience
Jellyfin and Plex have similar user interfaces on Google TV, like most other video streaming apps.
With Plex, you can toggle subtitles, playlists, and playback quality as usual. However, there is an annoying bug where switching playback resolution on a TV show just after the credits roll may kick you to the "Up Next" screen, then auto-play the next episode at the original quality.
On the other hand, Jellyfin on Google TV provides many customisation options. You can change the Home page layout and the button functionality on your remote and choose which video player to use for playback, as it's a native app. Once again, it means plugins that rely on modifying the web UI, like "Skip Intro", won't work.
Jellyfin vs Plex: Plans & Pricing
Jellyfin is an open-source project with no subscription plans. One of its key features is the free Live TV and DVR support, a paid addition in Plex. Moreover, local and remote streaming and client apps are entirely free.
You can donate to Jellyfin to help cover their expenses. You can also contribute by compiling documentation, offering feedback, and assisting other users with their issues on Discord and Telegram.
Plex offers most of its features for free, but some exclusive features are only available through the premium Plex Pass subscription. It allows users to access Live TV and DVR, client-side offline downloads, a dedicated server dashboard, webhooks, parental controls, and more.
Other exclusive benefits of Plex Pass include themes, hardware transcoding, intro/credits skipping, HDR tone mapping, enhanced music features, etc.
Plex vs Jellyfin Detailed Comparison (Video Guide)
Jellyfin vs Plex: Verdict
Jellyfin and Plex are two of the top media server software options, along with Emby and Kodi. If you want to store all your media files on a server and access them remotely across your devices, both Jellyfin and Plex are equally good choices – each with its own set of pros and cons.
We suggest trying Jellyfin first, as it has a user-friendly interface and is open-source media server software. Moreover, Jellyfin's diverse plugin support makes it the best in its segment. Plus, its passionate community can guide you through or troubleshoot any issue you face.
Plex is better for those seeking a more user-friendly and straightforward media server software. Aside from letting you stream your personal media, it features a TV shows and movies rental marketplace, Plex VR, and other exclusive perks. However, users must sign up for Plex Pass to get the most out of Plex.
Ultimately, it boils down to your needs and preferences. If we had to pick between the two, we would go for Jellyfin because of its free, open-source nature and good-enough feature set. On paper, however, Plex is a much more mature media server platform but requires a subscription to access features otherwise free on Jellyfin.