Smart TVs have revolutionized the way we watch television, providing access to an endless stream of entertainment through various streaming platforms. However, with access to a vast library of content comes the responsibility of monitoring what our children or loved ones watch. If you're looking for ways to block YouTube on LG smart TV, you've come to the right place.
We will guide you through the steps necessary to block the app. So, without further ado, let's get started!
Can You Block YouTube on LG Smart TV?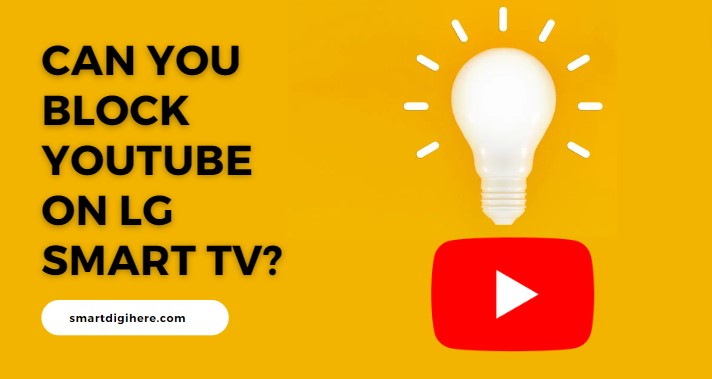 Yes, you can block YouTube on your LG smart TV, if you feel that you want to restrict the access to this video streaming platform for your children, or for any other reason.
Blocking YouTube on LG smart TV is easy and it will give you peace of mind knowing that your kids are not watching inappropriate content or spending too much time on this platform.
There are different methods to block YouTube, and in this article, we will explain the best and most effective ways to do it.
How to Block Youtube on LG smart TV?
Here's how to lock specific LG TV applications so you can control what your children see and protect your peace of mind.
Step 1: Press Home and Go to Settings
The first step in locking applications on your LG TV is to press the Home button on your remote. Then, click on the "Settings" option on the right side of the Home menu.
Step 2: Access Application Locks
Once you're in the Settings menu, press the three dots in the top right corner. From the drop-down menu, select "Set Safety" and set it to "On". Then, select the "Application Locks" option.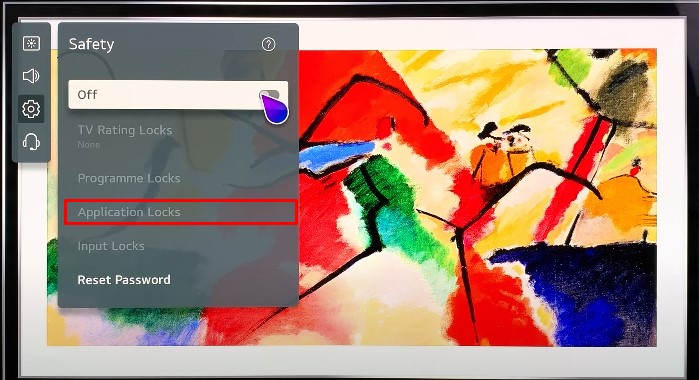 Step 3: Choose Applications to Lock
In the Application Locks menu, you'll be able to select which applications you want to lock. Simply select the applications you want to lock and hit the "Apply" button.
Step 4: Confirm Application Locks
Finally, to confirm that your applications are locked, go back to the Home menu and try to access one of the locked applications. You should see a prompt asking for a password, indicating that the application is indeed locked.
How To Lock Apps On LG Smart TV (Video)
Use YouTube's "Restricted Mode" Instead
YouTube's "Restricted Mode" is a feature that allows users to restrict the visibility of potentially inappropriate content on the platform.
By enabling Restricted Mode, users can ensure that they or their children are only able to access age-appropriate content. This is particularly useful for parents who want to ensure their children are protected from inappropriate material.
Keep in mind that Restricted Mode is not perfect, and some content may still slip through, so it's important to supervise children's online activity. Nevertheless, using Restricted Mode is a great way to provide a safer YouTube experience for you and your family.
Check Out: Turn On Gallery Mode on LG TV
How to Turn Restricted Mode on or off on YouTube
To turn off or on Restricted Mode on YouTube, follow these steps:
Go to the YouTube homepage.
Click on the "Settings" button.
Select "Restricted Mode."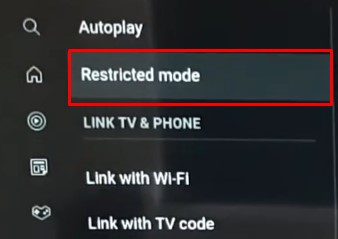 Toggle the switch to turn Restricted Mode on or off.
It's that simple! When Restricted Mode is enabled, YouTube will automatically filter out content that may contain violence, explicit language, and other mature themes.
As we said, you should be aware that Restricted Mode is not perfect; there is still some content that may slip through its protection. To ensure the safety of your children, it is always a good idea to supervise their online activity.
Also, See:
Final thoughts
Therefore, blocking YouTube on LG Smart TV can be done by either limiting access to the app through the TV's settings or by setting up parental controls (Restricted Mode).
Both methods effectively restrict access to the app and ensure that users, especially children, do not have unlimited access to inappropriate content.
Remember that blocking YouTube on the TV may impact the overall user experience, so it is best to weigh the pros and cons.
Nevertheless, implementing one of these methods will help provide a safer and more controlled viewing experience on an LG TV.
FAQs
Can I block YouTube from a smart TV?
The availability of blocking options may vary depending on the smart TV brand and model. Some smart TVs have parental controls that allow you to restrict access to certain apps or services, including YouTube. Consult your TV's user manual or contact the manufacturer for more information.
Can you put a password on an LG smart TV?
Yes, you can set a password for your LG smart TV. This can be done through the TV's menu settings. Look for the "safety" option and click on "safety" and you'll be able to lock or restrict programs, apps, and even inputs.
How to remove YouTube from LG Smart TV?
To remove the YouTube app from your LG smart TV,
Open the Settings menu on your LG smart TV
Go to the General tab
Go to Reset to Initial Settings and click it
Select Yes to confirm the confirmation message that appears on-screen
LG smart TVs will now be reverted to factory default settings, removing YouTube