Super Bowl continues to reign supreme as the top programming event, despite the major shift in the TV industry over the last decade – and for good reasons. It's the final game of the 2022 season and the culmination of the 2022-23 NFL playoffs, with this season's NFC champ going head to horn against the AFC winner, vying for the Vince Lombardi Trophy.
With over 112 million people tuning in last year, the potential for the 2023 Super Bowl to garner even greater numbers is likely as streaming becomes more prevalent. It promises an exciting lineup of performances, including the highly-anticipated return of Rihanna to the stage, as well as Babyface and Sheryl Lee Ralph. It's an event not to miss, even if football isn't your thing.
Super Bowl LVII is just around the corner, and you must be wondering where to watch it. There's a solid chance (since you're reading this) you use a Chromecast with Google TV for your media needs. Fortunately, you're in luck, as plenty of streaming options are now available. Here how's you can watch Super Bowl on Chromecast with Google TV and more.
Watch Super Bowl on Chromecast with Google TV via FOX Sports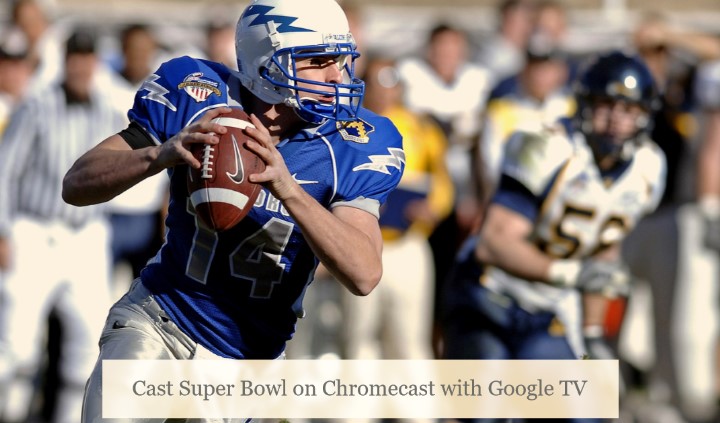 US prime television network, Fox, is to televise the 57th Super Bowl in the US. However, like most things nowadays, Fox is making the big game available for streaming live via the FOX Sports app.
Besides keeping users up to date with top sports news and highlights, the FOX Sports app allows streaming national sporting events, not just the NFL but also College Sports (football, baseball, basketball, etc.), Big Ten, Pac-12, NASCAR, Formula E, PPV boxing matches, and other must-see events – with select streams even available in up to 4K.
The good news is you can enjoy the 2023 Super Bowl in 4K and HDR when using a capable screen with your Chromecast with Google TV puck. After the lack of effort seen in the previous two years' Super Bowl coverage by CBS and NBC, FOX's airing of the football championship in 4K after its excellent Super Bowl LIV presentation is a fresh breath of air, especially for Ultra HD purists.
The inconvenience, however, is that Fox assumes you have an active pay cable or satellite TV contract (e.g., Cox, Dish, Optimum, Spectrum, Verizon, Xfinity) and valid credentials to log into the app, which some of you cord-cutters don't have. That isn't the end of the world, thanks to several streaming television services.
We'll come to all that later. But for now, let us walk you through how to catch the 2023 Super Bowl live stream on your Chromecast via FOX Sports.
Similar: Watch Super Bowl in 4k Online
Installing FOX Sports on Chromecast with Google TV
Getting the FOX Sports app on your Google TV device is relatively simple. All you have to do is follow these steps:
Press and hold the Assistant button on your Voice Remote and say, "Find the FOX Sports app."
Alternatively, navigate to Apps from your Google TV Home screen.
Find and click "Search for apps" under the "App categories" row.
Use the on-screen keyboard to search for the "FOX Sports" app.
Pick the matching FOX Sports app in the search results.
Click Install on the following screen and wait until the app finishes installing.
Access FOX Sports on your Chromecast with Google TV by navigating to the "Your apps" section under the Apps tab on the Home screen. You may have to expand the list by clicking "See all" (if you have many apps installed) and scroll to the bottom to find and open the FOX Sports app.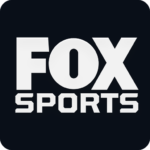 To move the FOX Sports app to the top of your list in the "Your apps" menu, use your Voice Remote to highlight the app, hold down the Select button, and click "Move." After that, use the remote's D-pad to reposition the app and press the Select button again to confirm its new location. It'll ensure easy access to the Super Bowl stream on game night.
Similar: Watch Super Bowl on Hisense Smart TV
Activating FOX Sports on Chromecast with Google TV
Activating the FOX Sports app is also straightforward, provided you have your TV provider login details, and the FOX channel comes as a part of your cable, satellite, or streaming (see below section) package. Here's how it goes:
Open the FOX Sports app from the "Your apps" section on your Chromecast with Google TV.
On the welcome screen, the app will provide you with a code with on-screen activation prompts.
Head to foxsports.com/activate using a browser on your phone, tablet, or computer, enter the activation code shown on your TV and hit Submit.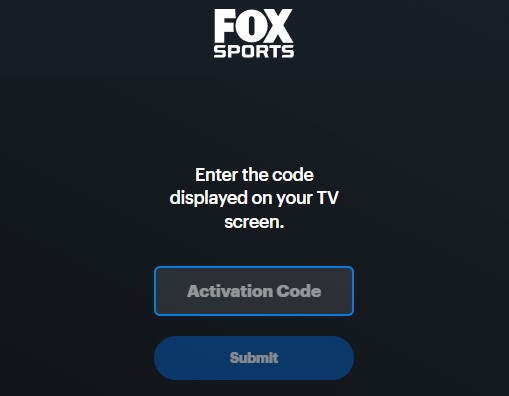 Choose your TV Provider and follow the on-screen instructions to log in with your credentials.
Once you successfully sign into the FOX Sports app on your Google TV device, all that's left to do is click the Watch Live button under the Super Bowl LVII featured banner. You'll be watching the game right on time!
Watch 2023 Super Bowl on Chromecast with Google TV via Live TV Services
You can always use an over-the-air antenna with your TV to pick up your local FOX station signal for free. But that's not an option since you plan to use your Chromecast with Google TV dongle to watch Super Bowl 2023.
Luckily, for those who've cut the cord, we have a number of options to offer, particularly streaming TV services offering monthly, contract-free plans, starting with:
Sling TV
Sling TV stands out from its competitors for its unique à la carte channel offerings. While other providers typically offer a limited number of packages, Sling TV offers two core packages – Blue and Orange – and a variety of bundled packages and add-ons.
You'll need the Sling Blue package to watch the 2023 Super Bowl, which includes FOX and 35+ other channels. You can stream on up to three devices, get 50 hours of DVR storage, and enjoy half off on your first month.
Combining it with the Orange package will give you access to over 47 channels, which, in terms of pricing, isn't that far from the standalone Blue plan. It's also available for half the price for your first month. It's worth noting that Sling TV doesn't currently offer FOX Deportes for Spanish-language viewers, and it doesn't support 4K.
Hulu with Live TV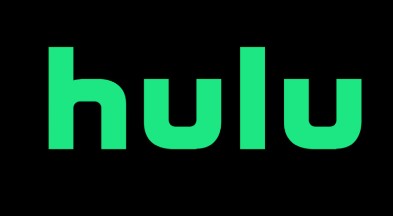 Hulu with Live TV offers a convenient blend of live TV and on-demand video, with the bonus of Disney+ and ESPN+ bundled in the monthly Hulu (With Ads) + Live TV package.
With this package, you can stream FOX (and 85+ channels) on two devices simultaneously and record unlimited videos in the cloud DVR archive for up to 9 months. For an additional $5 a month, add the Español Add-on and stream FOX Deportes' Spanish airing of the Bowl.
Once again, the Super Bowl and other live TV events aren't available in 4K, although some Hulu Originals may be.
Check out: Watch Super Bowl 2023 on LG Smart TV
FuboTV (Free Trial)
FuboTV is the ultimate streaming television service for sports enthusiasts, providing access to a wide range of networks, including FOX, which is essential for catching the big game.
Its Pro plan offers over 130+ channels and comes with 1,000 hours of cloud DVR storage, and you can stream on up to three screens at once. Fox Deportes comes with the Latino package.
Furthermore, fuboTV's Elite and Premier plans offer 4K streaming, which is a huge plus. They also throw in a free 7-day trial period to entice new users. Once you try FuboTV, you'll want to stick with it.
DirecTV Stream
DirecTV Stream, formerly known as AT&T TV, AT&T TV Now, and DirecTV Now, offers FOX in its base Entertainment package. It includes Fox Deportes as well, and while it's not cheap, it's one of the more reasonable options.
The additional channel packages offered by DirecTV Stream (Choice, Ultimate, and Premier)  go up to $150 a month. However, they currently don't offer 4K streaming, unlike FuboTV. On the positive side, DirecTV Stream comes with unlimited Cloud DVR storage and allows streaming on unlimited devices at home and up to three devices on the go.
YouTube TV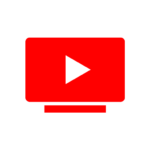 YouTube TV offers abundant channels, including the FOX channel necessary for catching the Sunday night championship game. With access to local ABC, CBS, FOX, and NBC stations in most designated market areas, it's a fantastic option if looking for comprehensive coverage of the next NFL regular season and American sports in general.
Additionally, the Spanish Plan (or Spanish Plus add-on) provides access to Fox Deportes for a more diverse viewing experience. With 79 of the top 100 TV networks in the nation, YouTube TV gets you more than any other live TV streaming service.
And like FuboTV, you can tune into FOX's 4K airing of Super Bowl LVII via YouTube TV, though it'll cost you $20 more for the 4K Plus add-on.
Additional Notes
Access the above services on Chromecast with Google TV and Android TV devices through their dedicated streaming apps (available on Play Store). But as mentioned earlier, you may stream the Super Bowl through the FOX Sports app by logging in with your streaming TV provider credentials.
Before subscribing to any streaming plans, ensure it offers access to your local Fox station so you can watch the Super Bowl without any issues. You don't want to end up missing the live broadcast because the service you opted for doesn't support your local Fox station. It's best to double-check before committing to a service, especially Sling TV.
Cast Super Bowl 2023 on Chromecast with Google TV
As long as your phone, tablet, or computer is on the same home network, you won't even have to pick the remote to watch the 2023 Super Bowl on your big screen. Like the name says, the Chromecast with Google TV dongle is a "Chromecast" after all, so all you have to do is:
Download the FOX Sports or your preferred live TV streaming app (g., FuboTV, Sling TV) on your Android, iOS (iPhone), or iPadOS (iPad) device.
Or, open a new browser tab on your computer and navigate to the official FOX Sports or OTT streaming TV website.
Sign into the FOX Sports or live TV app with the required account details, though you'll need to register for a subscription first (see above).
Head straight to the app or website's "LIVE" section or click the Super Bowl LVII banner on the homepage.
In the app or website player, tap or click the Cast icon (TV with Wi-Fi waves), and choose your Chromecast with Google TV
You should now see the live Super Bowl game on your big screen. It's that intuitive and barely requires any effort. The best thing is you can use your source device for other things, such as keeping up the barrage of group chat messages and doom-scrolling on socials while you watch the football action unfold on the game night.
Related: How to Watch Super Bowl 2023 on Philips Smart TV
End Zone
This guide has outlined the various ways to stream the 2023 Super Bowl on Chromecast with Google TV. Once you carefully consider the options, you'll be able to find a streaming app fitting your needs and budget. We recommend setting it all up in advance, so you'll be able to relax on game day, knowing you won't miss a single play.
Ensure your Chromecast dongle is on your high-speed home network, have enough snacks to munch and drinks to sip, and witness the big face-off in the most exciting football game of the year. That's right alongside Rihanna's anticipated halftime show and viral brand commercials everyone's so thrilled about.
If you're outside of the US, there are still options to stream the Super Bowl. In Canada, DAZN offers a monthly subscription to stream the game. In the United Kingdom, viewers can tune in on ITVX, a new ad-supported streaming service from ITV, with Channel 7's 7plus VOD platform hosting it for free for the Aussie fans of American football. These three Super Bowl streamers officially support Chromecast with Google TV.