Following the NFL Playoffs, the countdown to Super Bowl LVII has begun ticking until it kicks off on Sunday night. The annual championship game brings to a spectacular end the 2022-23 NFL season, and it's only a matter of time before we get our new football champion.
The 2023 Super Bowl halftime show also serves as a highly-anticipated comeback concert for Rihanna, the Queen of Pop's first performance in nearly half a decade. That, plus the Super Bowl's million-dollar commercials, make it a must-see.
You're most certainly aware of the venue, date, day, and time the big game's supposed to start and the two NFL teams surrounding the showdown, but you probably still don't know how to watch Super Bowl on Sharp or Toshiba Smart TV. Don't worry – we've got you.
Below, you'll find all the details you need about how to catch the game on your Sharp or Toshiba-branded Smart TV with or without cable.
Watch Super Bowl on Sharp & Toshiba Smart TV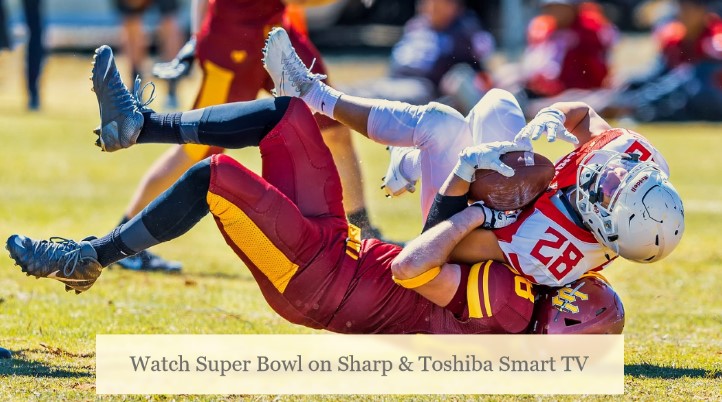 In the United States, Sharp sells Android and Roku TVs. Toshiba, on the other hand, primarily offers Fire TV Edition Smart TVs in the country. The good news is that regardless of which one of the following sets you have, you'll be able to watch the 2023 Super Bowl without a cable or satellite connection.
Let's start with options for those who still pay for a traditional pay-TV contract. In that case, you'd be looking at FOX, the official NFL broadcaster of Super Bowl LVII in the US. Fox's Hispanic-centric channel, FOX Deportes, is to host the game with Spanish play-by-play commentary.
Besides airing the game across its local affiliate stations around the country, Fox is streaming the big game on its FOX Sports app. You can download it on your Sharp or Toshiba Smart TV from the Google Play Store, Roku Channel Store, or Amazon Appstore, then sign in with your cable or satellite TV provider credentials to stream the Bowl digitally.
Those who don't want to renew their costly TV contract or have cut the cord a long time ago, we aren't leaving you in the dark either. Feel free to check out your 2023 Super Bowl live-streaming alternatives in the following section.
Where to Watch Super Bowl 2023 on Toshiba & Smart TV Without Cable
Thanks to the growing popularity of streaming television services in the United States, you'll be watching Super Bowl 2023 on your Sharp or Toshiba Smart TV in no time.
Those without cable can stream FOX (and FOX Deportes) on a service like fuboTV, Hulu with Live TV, Sling TV, or YouTube TV with the correct subscription package or free trial. All the following also allow logging in to the FOX Sports app. Here are all the streaming TV plans carrying the FOX network and their additional benefits in detail:
| | | |
| --- | --- | --- |
| Streaming TV Service | Suggested Plan (incl. FOX) | Plan Benefits |
| DirecTV Stream | Entertainment | 75+ must-have channels covering sports, news, and entertainment, unlimited Cloud DVR storage, unlimited simultaneous streaming at home |
| fuboTV | Pro | 130+ channels covering 100+ sports events a year, 1000 hours of DVR space, and up to ten screens at home |
| Hulu with Live TV | Hulu (With Ads) + Live TV | 85+ channels, unlimited DVR, access to Hulu, Disney+, and ESPN+ with ads |
| Sling TV | Sling Blue | 41 live channels, 50-hour DVR, three device streams |
| Vidgo | English Plus | 110+ channels, on-demand, 20-hour DVR (for the first three months) |
| YouTube TV | Base Plan | 100+ top channels, unlimited DVR space, up to three streams and six accounts per household |
Among all the following options, Sling TV is the most affordable way to stream FOX's live Super Bowl broadcast. However, before purchasing a Sling Blue subscription, verify which channels you're getting on your ZIP code since FOX on Sling is available in select areas only.
The rest of the providers offer a more comprehensive bundle for American football fans, as they carry all five partner networks, e.g., FOX, CBS, NBC (N/A on Vidgo), ESPN, and NFL Network, and provide all-around NFL regular season coverage.
If you're looking to stream Fox Deportes' 2023 Super Bowl broadcast in Spanish, opt for one of the following streaming television plans/combos:
DirecTV Stream: Óptimo MÁS | Entertainment + Deportes Add-on
fuboTV: fubo Latino
Hulu with Live TV: Hulu (With Ads) + Live TV + Español Add-on
Vidgo: English Plus | Vidgo Mas
YouTube TV: Spanish Plan | Base Plan + Spanish Plus Add-on
Watch Super Bowl on Sharp & Toshiba Smart TV in 4K
Fox is to air the 2023 Super Bowl in 4K, marking the second time for NFL's championship game to be broadcast in this format. Fox also did it the first time with Super Bowl LIV in 2020, but in the next two years, CBS and NBC failed to meet the high standards. While Fox is essentially converting a 1080p HDR video stream to 4K for home transmission, the upscaled image offers a significant uplift in clarity compared to HD, even though it isn't native.
To catch the game in the highest available resolution on your Sharp or Toshiba TV, you must have a 4K set-top box from Comcast, DirecTV, Dish, Optimum, Verizon Fios, or another cable or satellite company offering FOX 4K.
Plus, you can stream the Bowl in 4K via the FOX Sports Android TV/Fire TV app or Roku channel, which requires a paid TV login with a supported cable, satellite, or streaming TV provider in the US.
Alternatively, you may sign up for a subscription on a 4K-capable streaming TV service like fuboTV or YouTube TV. Those interested in fuboTV can opt for the Elite or Premier plan to access the 4K Super Bowl stream. Your other option is YouTube TV, for which you'll be paying for the 4K Plus add-on on top of your base plan.
Watch Super Bowl on Sharp & Toshiba Smart TV For Free
None of the above solutions are exactly free, but there are still ways you can catch Super Bowl LVII on your Sharp or Toshiba Smart TV without paying a dime. For instance, streaming live TV providers like fuboTV and YouTube TV offer a limited free trial for new subscribers. Sign up for it right before the kick-off, stream the game, and cancel your plan immediately afterwards – it's that easy!
If you have a Sharp Android or Toshiba Fire TV Edition Smart TV, you can also use a VPN app to connect to a United Kingdom server. That's where the prime British television network ITV's freemium live and on-demand streaming platform, ITVX, is to stream the 57th Super Bowl for free. Yes, you'll likely have to sideload the ITVX app (since you won't find it on your region's app store) and sign in with an account, but it's one of the only ways Americans may watch the NFL event without paying for a hefty subscription.
Another better option would be attaching an over-the-air digital antenna with your Smart TV to watch the 2023 Super Bowl on your local FOX affiliate station – provided you're close to a metropolitan area with solid broadcast reception. However, the probability of getting the HD broadcast varies depending on signal coverage. You're also giving up on comfort features like pausing and recording.
Check Out: How to Watch Super Bowl 2023 on Oculus (Meta) Quest 2 & Pro
Super Bowl LVII: Gearing up for the Big Game
In Summary
Above, we've taken you through a number of compelling options to watch Super Bowl on Sharp & Toshiba Smart TV in the US. Note they're all legitimate sources, and it has never been this straightforward to tune into the big game without cable. The same goes for other countries too.
For instance, Canadian enthusiasts of American football will be able to watch the broadcast on CTV and TSN. On the streaming side, DAZN is the premier platform to stream Super Bowl 2023 in Canada. Besides full NFL regular season coverage, DAZN offers a vast array of live and on-demand sports content.
Brits also have their own ways of watching the Super Bowl, including the free-to-air ITV channel and its new freemium streaming service, ITVX. Similarly, this year's NFL Super Sunday live broadcast in Australia is on Channel 7 and its 7plus streamer app for free.
No matter which service and from where you'll be streaming, a minimum of 8 Mbps internet speed is mandatory. The faster the connection, the better the experience. For optimal 4K streaming, a swift 20 Mbps or faster connection is highly recommended.