The Super Bowl is the highlight of every NFL season. It's a spectacle that combines sport and entertainment, featuring famous guests, unforgettable halftime performances, and high-budget commercials. The game serves as a climactic end as the AFC and NFC champions go head-to-head for the prestigious Vince Lombardi trophy.
Super Bowl is one of the most spectacular sports events of the year. At the same time, virtual reality is a rapidly emerging technology in the consumer market, especially with Meta leading the industry with their Quest 2 and Quest Pro VR headsets. So, what happens when we pair them together?
The answer is what you think: Super Bowl in VR. In fact, it's already a somewhat evolving concept that has seen gradual improvements over the years, though it still isn't quite there. However, there are a few ways you can watch Super Bowl on Meta Quest 2 and Pro, and this guide will walk you through them.
Watch Super Bowl 2023 on Meta Quest 2 / Pro via Bigscreen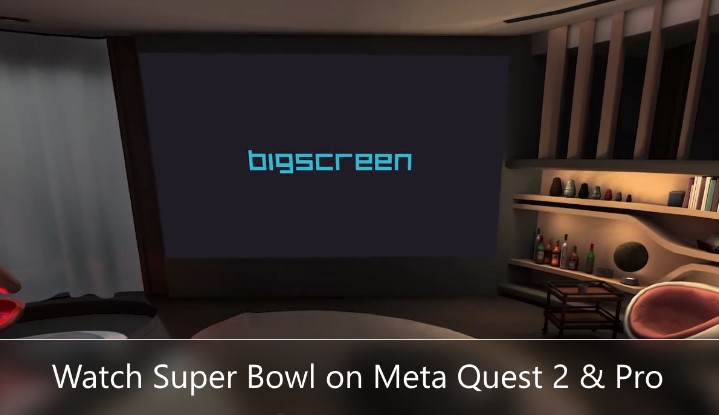 Bigscreen is a VR app that allows Quest users to watch content, play games, and hang out with friends in public and private rooms with spatial voice chat. Of course, you can also use it solo if you want to. Bigscreen previously held Super Bowl watch parties, though we can't confirm whether it's hosting this year's Big Game too.
If not, you can also manually stream the 2023 Super Bowl from a streaming site, which we'll discuss later in this section. First, let us show you how to download and set up Bigscreen on your Quest 2 or Pro headset:
Download Bigscreen on Quest 2 / Pro
Power on and wear your Quest headset. Once it boots up, press the Oculus button on your right-hand controller to open your universal menu.
Select the Store tile, then use the Search function to find the Bigscreen (currently in beta) app.
On the app page, select Free and wait for Bigscreen to download and install on your Quest headset.
You may also use the Meta Quest mobile app to install Bigscreen remotely on your headset. Alternatively, head to this Oculus Store page, click Get, and log in to your Meta or Oculus account. If you use your headset in Air Link mode with your PC, you can also install Bigscreen via Steam.
Configure Bigscreen on Quest 2 / Pro
Now that you have Bigscreen installed on your Meta Quest 2 or Pro headset, it's time to set it up for watching Super Bowl LVII. Here's what you need to do:
Launch Bigscreen from your Quest's Apps menu. If using it on PC, make sure you open it in VR mode from SteamVR.
Begin with choosing your preferred Environment. Go with the default Home Theater set, as it's likely the best choice for your private Super Bowl 2023 room.
Follow the on-screen prompts to configure your headphones and mic setup (push-to-talk is generally recommended), then move on to the tutorial.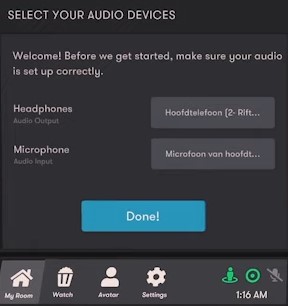 We advise you not to skip the tutorial, as it'll tell you how to walk around the environment, interact with others, and use Bigscreen in general. Trust us – you don't want to waste time figuring all that out on the game night.
Once done with the tutorial and signed in, you're free to explore the environment and customize your in-app avatar the way you want. One thing you need to do in Settings is set your viewing option to "Show on Big Screen."
When ready, hop onto the "Now Playing" section and find a public room hosting the 2023 Super Bowl. Even if there's no official Bigscreen event, you'll likely find someone else hosting the live event on Sunday night.
From the "My Room" section of the Bigscreen overview menu, you can create your own private room or a Super Bowl 2023 party with your friends in VR. All you have to do is name your room, invite up to 15 people (or go solo), and select Save. You can then share the Room ID with the ones you want in the private watch party.
If someone else hosts the Super Bowl LVII stream, head to the Overview page, select Join Room ID, enter the ID number, and choose Join Room. It should take a few seconds to connect, after which you can watch the Big Game and talk with the other participants.
Related: Connect Bluetooth Headphones With Quest 2
Bigscreen & Meta Quest 2 – Beginners Video Guide
Where to Watch Super Bowl 2023 on Meta Quest 2 / Pro
When using Bigscreen, you can use the built-in browser to navigate to the streaming website offering Super Bowl LVII coverage. Since Fox, this year's official Super Bowl broadcaster in the United States, doesn't offer its own streaming subscription plans, we recommend going with one of the following streaming TV providers:
fuboTV: With fuboTV's Pro plan, you get 130+ channels (incl. FOX), 1000-hour DVR, and streaming on up to 10 devices on the home network. Fox Deportes is available with the Latino plan should you wish to watch the game with Spanish commentary.
Hulu with Live TV: The Hulu + Live TV plan includes 85+ channels, unlimited DVR, and up to two simultaneous streams. You also get access to the on-demand libraries of Hulu and Disney+, as well as the ESPN+ catalog.
Sling TV: The Sling Blue package is affordable and possibly the best choice for tuning into Fox's Super Bowl coverage on a Quest headset. It features 41 channels and 50-hour cloud recording and allows three device streams.
YouTube TV: Like fuboTV, you can opt for the Base plan for a free trial and watch the Super Bowl on FOX for free on your Quest 2 or Pro. There's also a cheaper Spanish plan bundling Fox Deportes.
After signing up for a subscription, log into the respective streaming site through Bigscreen's built-in browser and play the Super Bowl stream in your private room.
However, if you don't like the social aspect of Bigscreen and the complexity of setting it up, the built-in Meta Quest Browser is an excellent alternative. It'll allow you to enjoy the Big Game on an immersive virtual theater screen. Another alternative to the stock browser is Wolvic, an open-source fork of the Firefox Reality browser that Mozilla no longer supports.
If you already get the FOX / Fox Deportes channel with your cable or satellite TV contract, you can log into the Fox Sports website (foxsports.com) with your TV credentials. It even supports signing in with the streaming providers mentioned above.
Aside from Bigscreen, you may also try the standalone Fox NOW app, which will need you to log in with your cable, satellite, or streaming TV details. It's available in the Quest Store for the Meta Quest 2 and Quest Pro headsets. Similarly, you can install the standalone Sling TV app on your VR headset and use your Sling Blue subscription to watch the 2023 Super Bowl.
Similar Guides
Conclusion
While the NFL isn't as VR-friendly as other American sports leagues, this guide has highlighted various options to watch Super Bowl on Meta Quest 2 and Pro. Watching the seasonal football championship game on an immersive virtual theater-sized screen is perhaps the best way to experience it.
It's worth mentioning Bigscreen's VR Discord community. Without their help, it wouldn't have been possible for us to compile this guide. If you have any further questions about setting up Bigscreen on Quest or creating/joining rooms or something else, that's a great place to start with.
For those trying to use Quest Link to watch the 2023 Super Bowl from their PC, check out this official step-by-step video guide from Bigscreen.