The 2022-23 NFL season comes to a close with the most spectacular football championship game of the year, Super Bowl LVII. There are lots of betting and speculations around who will hoist this year's Lombardy Trophy. The one thing we know for sure is how and where to watch Super Bowl on Hisense Smart TV.
Whether you're planning ahead for the Super Bowl night or just want to tune in for nine-time Grammy winner Rihanna's half-time performance or the star-studded, ludicrously-expensive advertisements, this guide has got you covered. Here's everything you need to know to watch the Super Bowl 2023 on your Hisense Smart TV.
On What Channel Will Super Bowl 2023 Be?
Broadcast rights to the Big Game primarily cycle between CBS, Fox, and NBC each year, and Super Bowl LVII coverage falls to Fox, with Spanish-language simulcast on Fox Deportes.
The FOX channel is available across all basic cable and satellite plans in the United States. But if you're moving away from traditional viewing means, a handful of live-streaming television services also carry the channel, most of which will allow you to watch the game on your Hisense Smart TV. It includes the likes of DirecTV Stream, fuboTV, Hulu + Live TV, Sling, Vidgo, and YouTube TV.
If you already happen to have a subscription to any of the following services or a cable or satellite provider, you can log into the Fox Sports app and catch the 2023 Super Bowl on Hisense Android or Roku TV.
How to Watch Super Bowl LVII on Hisense Smart TV Without Cable?
Just as Fox is offering nationwide terrestrial coverage of Super Bowl 2023 in the US, viewers can watch the game over the internet, as discussed in the previous section. Your local Fox affiliate station is on nearly every live TV service in the country, some of which even offer a free trial.
Therefore, you can effectively stream the Sunday night championship game on your Hisense Smart TV for free. That includes YouTube TV, one of the best streaming TV services with 5+ million subscribers. Its Base plan offers 100+ channels, unlimited TV recording, and up to three streams per household.
Those on a budget can opt for Sling TV's Blue plan for an assorted lineup of 40 entertainment, sports, and news channels, including FOX. It also offers cloud storage for up to 50 hours of DVR and allows simultaneous streaming on three devices. Vidgo's English PLUS channel package, too, presents cord-cutters with a value-for-money proposition.
Another great option is fuboTV should you want to watch Fox's Super Bowl at maximum fidelity on your 4K Hisense Smart TV. Its Elite and Premier plans are pricy, but they're ideal for those who want to switch from cable without losing most of the channels. With fuboTV promising 130+ events in 4K, including Super Bowl, it's perfect for NFL fans and sports enthusiasts.
Lastly, Hulu with Live TV gets an honorable mention for its all-in-one package that combines the best of live TV and on-demand offerings. Besides 85+ popular channels (incl. FOX), DVR functionality, and ad-supported access to Hulu's massive streaming catalog, the package bundles Disney+ and ESPN+ subscriptions.
If you're more interested in catching the Super Bowl live with Spanish commentary, the above streamers have additional options for you too. Here are the plans and add-ons offering access to Fox Deportes:
fuboTV: fubo Latino (Plan) / Latino Plus (Add-on)
Hulu with Live TV: Español Add-on
Vidgo: Vidgo Mas Package
YouTube TV: Spanish (Plan) / Spanish Plus (Add-on)
Related: Watch Super Bowl on TCL Smart TV
Where to Watch Super Bowl on Hisense Smart TV in 4K?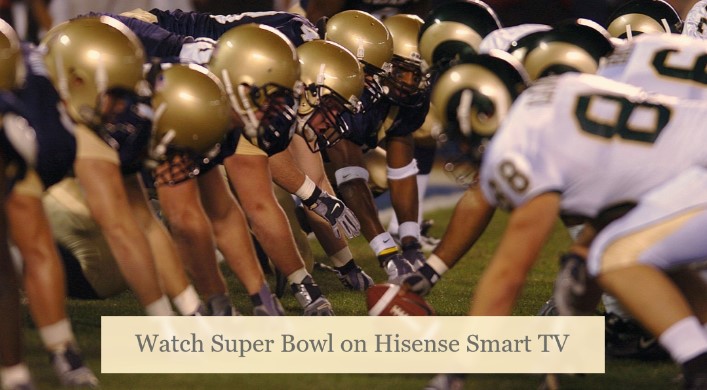 As mentioned before, you should be able to watch Super Bowl LVII on Hisense Smart TV with a fuboTV subscription. The entry-level Pro plan doesn't feature 4K streaming, so you'll have to go with either the Elite or Premier package.
YouTube TV is also a well-rounded choice for streaming the Big Game in 4K. However, you must pay for the $20 4K Plus add-on on top of the Base subscription fee. Aside from access to other NFL broadcasting channels, e.g., CBS, NBC, and NFL Network, you also gain the ability to have YouTube TV set up on as many screens as you want in your home.
The best option is to use the FOX Sports app on your Android or Roku-powered Hisense TV. You can log in with your existing cable, satellite, or streaming TV subscription and watch any available sports in 4K. And that's without having to pay for a 4K-specific add-on.
For example, if you pay for Sling Blue, you can choose Sling TV as your provider and sign into the FOX Sports app with your account credentials. Once logged in, you'll get to stream the 2023 Super Bowl or other live sporting events in 4K.
How to Watch Super Bowl 2023 on Hisense Smart TV in the UK?
American football fans overseas can enjoy the 57th Super Bowl on ITV in the UK, which, if you have a Freeview-enabled Hisense Smart TV set up with an aerial, you can watch for free. Or, you can follow along with the live/on-demand stream on ITVX.
Alternatively, if you have a Hisense Roku TV, sign up for a NOW Sports membership and tune into the Sky Sports NFL live channel via the NOW app to watch the Super Bowl.
Also Read: Watch Super Bowl on Sony TV
Final Words
Super Bowl LVII is the biggest spectacle of the year as far as sporting events are concerned. After Los Angeles Rams' exceptional victory in the 56th Super Bowl, millions are eager to see what this year's championship brings to the table.
Since we've told you everything we know on where and how to watch the Super Bowl on Hisense Smart TV, the only thing left for you is to subscribe to any of the following streaming services, download the app on your Android, Roku, or VIDAA-powered Hisense TV, and sign in. Perhaps grab a snack or cold beverage while you're at it.
If streaming in 4K, it's recommended to have internet speeds of at least 25 Mb/s. Ensure your Hisense Smart TV is connected to a strong Wi-Fi network or plugged directly into your network router via Ethernet for optimal streaming quality.