With another NFL season moving towards the playoffs, one of the biggest annual sporting events in the States, Super Bowl LVII, is here before we know it. Last year, it was the Los Angeles Rams hoisting the Lombardi Trophy after beating the Cincinnati Bengals 23-20.
As with previous ones, this year's Big Game is a grand spectacle of the best football action from both AFC and NFC champions, a headlining half-time musical show, and plenty of expensive commercials. But the question remains: Who'll be the ultimate champion this NFL season?
Millions of anticipated viewers are to tune in to FOX and Fox Deportes on Sunday night to find out. However, you may wonder whether it's worth the hassle of renewing your cable or satellite TV contract just for the game. Luckily, there are other means you can watch Super Bowl on TCL Smart TV you have in your living room.
For you curious folks, we've rounded up a few simple ways to catch all that incredible Super Bowl action on your big screen. Read on to learn more.
Where to Watch Super Bowl on TCL Smart TV?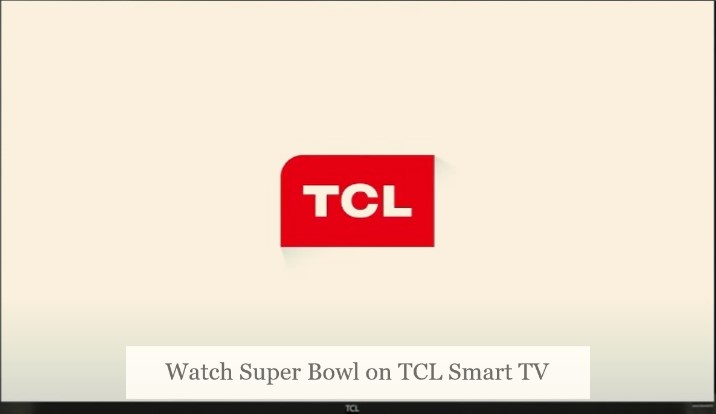 There was once a time when most people would tune in to the Super Bowl game live via their cable or satellite pay-TV connection. However, with the rapidly growing popularity of streaming services, today's viewers have been compelled to cut the cord and jump ship to digital platforms for their entertainment needs, including sports.
Like many streamer apps, e.g., Netflix and Disney Plus, you can get a monthly contract-free subscription from one of the top OTT streaming television providers in the United States. It'll allow you to stream the linear TV channels on any smart device, including FOX (or Fox Deportes) for Super Bowl 2023 on Android TV/Roku-powered TCL TVs.
Below are some of the streaming live TV providers you can subscribe to for watching Fox's Super Bowl LVII live coverage on your compatible TCL Smart TV:
DirecTV Stream

DirecTV's over-the-top live TV service offers four plans, with the base Entertainment plan covering most of the essential sports, news, and entertainment channels, including FOX. You must pay extra to get the Fox Deportes channel add-on if you want to enjoy the Big Game with the Spanish commentary.
Additional benefits include unlimited cloud storage for DVR and no limit on simultaneous usage on devices sharing the same home network. As a new user, you can sign up for the 5-day free trial just before the Super Bowl, enjoy the game, and cancel your subscription – effectively costing you nothing.
fuboTV (Free)
One of the first emerging services that prioritized delivering live sports over the internet is fuboTV. Now evolved as a streaming TV platform, it offers three channel packages, with the Pro plan offering 140+ channels, 100 hours of recording space, and multi-streaming on up to ten devices at home.
Even fuboTV's Pro package gives subscribers live access to 100+ yearly sporting events, including FOX's 2023 Super Bowl. Alternatively, if you have a 4K TCL Android or Roku TV, opt for the costlier Elite or Premier plan to stream the Big Game in a glorious Ultra HD quality.
Or, you can save a buck and go with the Latino package if you're only interested in the Spanish broadcasts of Super Bowl LVII and other NFL primetime fixtures.
The good thing is that fuboTV offers a 7-day free trial, so you can watch the super bowl on TCL Smart TV for free and then cancel your monthly plan if you don't want to continue.
Hulu with Live TV
Are you looking for more than just Super Bowl on FOX? The Hulu + Live TV subscription might be the bang-for-the-buck deal you want. It offers 85+ top American TV channels, with unlimited cloud DVR storage, alongside Hulu's sizeable on-demand catalog and complimentary access to Disney+ and ESPN+ offerings.
Hulu's live TV channel lineup has FOX, CBS, NBC, ESPN, and NFL Network, so it's ready for all the football action from the next NFL season. Besides your TCL Smart TV, you can stream the Super Bowl simultaneously from the same account on another compatible screen in your household.
Sling TV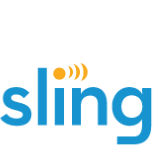 In select designated market areas, Sling TV customers subscribed to Sling Blue or Sling Orange + Blue can stream their local FOX and NBC channels. The best part of Sling is the affordable plans, in fact, the cheapest ones in the bunch.
So if you don't want to overspend on a monthly TV subscription just to watch Super Bowl LVII, the Sling Blue plan is your best bet. Aside from its small yet notable lineup of 40 channels, you get 50-hour DVR storage and can stream on up to three compatible screens, including your TCL Android or Roku TV.
Vidgo
Although a relatively new name in the streaming TV business, Vidgo has earned itself high marks for value.
With its 110+ live channels, on-demand offerings, and 20-hour DVR storage (albeit for the first three months), the English Plus package is an excellent option to consider if you're interested in the Super Bowl and the upcoming NFL regular season coverage. You get FOX and Fox Deportes, meaning you get access to both the English and Spanish-language broadcasts.
Ideally, you'd want to go for the considerably more affordable Vidgo Mas package, provided you wish to enjoy the 2023 Super Bowl with your Hispanic friends and family.
YouTube TV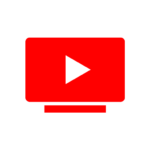 Like fuboTV, subscribing to YouTube TV's Base plan allows you to stream 100+ channels, including the ones broadcasting Super Bowl LVII this year. The Spanish plan includes Fox Deportes and has the same benefits as the Base one: unlimited recording space and simultaneous streaming on up to three devices.
YouTube TV offers a 4K Plus add-on if you want the best picture quality when streaming Super Bowl on your TCL Smart TV. Besides the video upgrade, it also uncaps the limit on simultaneous streaming.
Read: Astro GO on Android TV
How to Watch Super Bowl 2023 on TCL Smart TV?
Purchasing a subscription from one of the following live TV streaming services is simple. Visit their official website, choose your preferred channel package, and register with your email address and personal details. It shouldn't take longer than a few minutes on your phone, tablet, or computer.
Once your streaming TV subscription's active, download your provider's official app on your TCL Android or Roku TV and log in with your credentials. For instance, if you want to install, let's say, the Sling TV app on your TCL Android TV, here's what you need to do:
Press and hold the Home button on your TCL TV remote. Or navigate to the Apps menu from the top of your Home screen.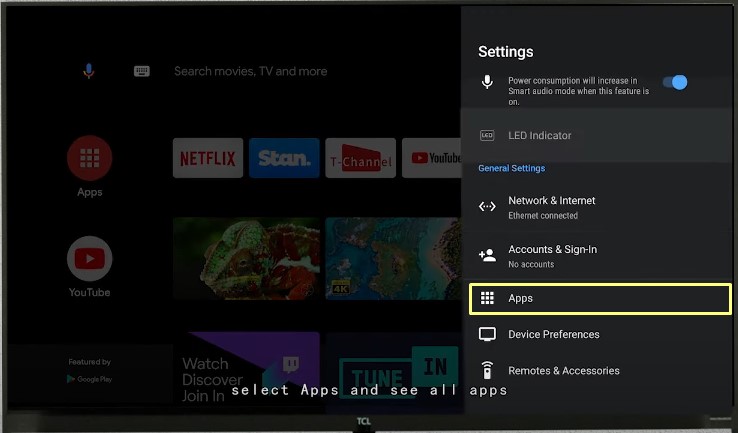 Find and launch the Google Play Store. Click the Search (magnifying glass icon) option above the homepage.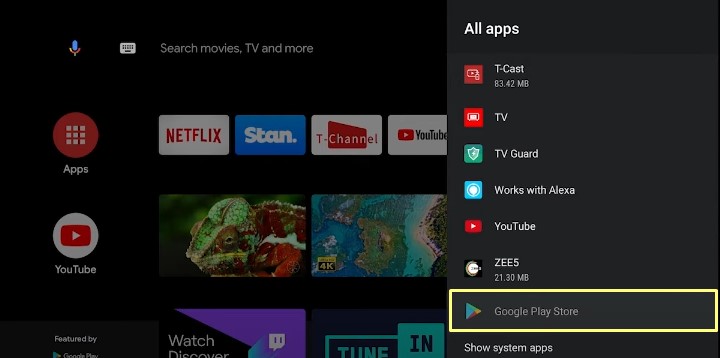 Use the on-screen keyboard (or your voice if the remote supports it) to search for the "Sling TV" app.
Finally, click the Install button upon landing on the app's preview page.
On the newer TCL Google TVs, the process is a bit simpler. Go to the Search tab from the Google TV Home screen, search for the live TV streaming app you want to download, and click  Install. After that, you can open it from the Apps menu.
Those who have a TCL Roku TV can follow these steps:
Press the Home button on your TCL Roku TV remote, then scroll down and select Streaming Channels.
On the Channel Store, scroll down again to the Search Channels option and enter the name of the streaming app (g., Sling).
Choose the desired app in the results, then click Add Channel on the preview screen.
You may need to confirm your Roku PIN if configured.
The particular app or what Roku calls "channel" will be added to your channels list under the Roku Home screen. From the options, you'll also be able to move the channel to the top row for easier access.
Whether you have a TCL Android TV or Roku TV, signing into the live TV apps is relatively straightforward. It usually involves visiting an activation site on another device, entering a code generated by the app, and logging in with your credentials. Or, you may need to type the email address and password into the app's respective login field with the remote.
But once you're in, your access to the live Super Bowl coverage is a matter of going to the TV Guide and choosing the FOX or Fox Deportes channel. Alternatively, you should see the "Super Bowl LVII" banner on the streamer app's Home page.
Use the FOX NOW / FOX Sports App
You can watch Super Bowl 2023 on TCL Smart TV and other devices nationwide via Fox's two TV Everywhere apps: FOX Now and FOX Sports. Signing into these apps requires a TV login. They support activation with traditional cable and satellite providers, as well as the streaming ones we've mentioned above.
Regardless of your subscription plan, you'll be able to enjoy the 2023 Super Bowl on the FOX NOW or FOX Sports app in up to 4K resolution. That's assuming you have a compatible 4K TCL Android or Roku TV and a high-speed internet connection (15 Mb/s or faster).
Related:
Final Words
Super Bowl LVII is sure to be an exciting game. With all that hype building toward the conclusion of the 2022 NFL season, you definitely don't want to miss out on the big Sunday night. Above, you'll find everything on how to watch Super Bowl on TCL Smart TV, including ways to stream the game without cable in the United States.