Fitbits are often ranked among the best smart wearables one can buy, as they accurately log daily activities and workouts and reliably monitor stress and sleep levels – all delivered to the users at a glance through the brand's excellent companion mobile app.
Choosing between Fitbit models has always been difficult – now even more so with the shrinking gap in design and features between the company's Sense 2 and Versa 4. Sharing a near-identical casing, powered by the same Fitbit OS, and offering similar fitness and health tracking features, the following two are easy to get mixed up.
Then there's the Charge 5, which, despite being a more affordable, low-profile fitness tracker, has many advanced features as its bigger brothers. It slightly lacks behind in the smarts, but the tracker still offers the same signature wellness monitoring experience Fitbit is known for.
Considering the significant price gap and notable differences in key aspects between the three, you may be confused about which one's the better fit for you. Our guide will compare the Fitbit Sense 2, Versa 4, and Charge 5 in various aspects and help you decide.
Fitbit Sense 2 vs Versa 4 vs Charge 5: Price Comparison
If price is a big consideration, the Fitbit Charge 5 is what you'll likely go after. It's the most affordable in the bunch, which makes sense, given it's a fitness tracker and not a full-fledged smartwatch like the Sense 2 and Versa 4.
It doesn't come as a surprise that the Fitbit Sense 2 is the most expensive of the three, considering it's the company's flagship smartwatch and arguably the most feature-packed model. We'll discuss more on that as we dive deeper into the comparisons.
The Fitbit Versa 4 sits right between the Sense 2 and Charge 5. For many, it may be the best pick for the price alone, offering a striking blend of smart features, fitness and health tracking suite, battery performance, and affordability.
All the above Fitbits frequently go on heavy discounts through Amazon and other third-party retailers. Therefore, the price disparity can be even more pronounced (or smaller) depending on when you're looking at them.
Fitbit Sense 2 vs Versa 4 vs Charge 5: Side-by-Side Comparison Table
Fitbit Sense 2
Fitbit Versa 4
Fitbit Charge 5
Dimensions

(L x W x H)

40.5 x 40.5 x 12.3 mm
40.5 x 40.5 x 11.2 mm
36.7 x 22.7 x 11.2 mm
Band Size
Small: 140-180 mm / 5.5-7.1 in
Large: 180-220 mm / 7.1-8.7 in
Display
1.58-inch 336 x 336 AMOLED Touchscreen (300 PPI)
1.04-inch AMOLED Touchscreen (326 PPI)
Material
Aluminum Case, Flexible Silicone Band
Aluminum and Stainless Steel Case, Silicone Band
Water Resistance
5 ATM (Up to 50 Meters)
Hardware
Multi-Path Optical HR Sensor, cEDA Electrical Sensor, Red and Infrared SpO2 Sensors, Skin Temperature Sensor, GPS + GLONASS, 3-Axis Accelerometer, Gyroscope, Altimeter, Ambient Light Sensor, NFC, Vibration Motor, Mic, Speaker
Multi-Path Optical HR Sensor, Red and Infrared SpO2 Sensors, Device Temperature Sensor, GPS + GLONASS, 3-Axis Accelerometer, Altimeter, Ambient Light Sensor, NFC, Vibration Motor, Microphone, Speaker
Optical HR Monitor, Multipurpose Electrical Sensor, Red and Infrared SpO2 Sensors, Device Temperature Sensor, GPS + GLONASS, 3-Axis Accelerometer, Ambient Light Sensor, NFC, Vibration Motor
Memory
7 Days of Minute-by-Minute Motion Data, Daily Totals for the Past 30 Days, HR Data at 1-Second Intervals during Exercise
Battery
Up to 6 Days
Full Charge in 2 Hours (0-100%)
Up to 7 Days
Full Charge in 2 Hours
Smart Features
On-Wrist Calls, Text, Email, Calendar, and App Notifications, Music Control, Find My Phone, Fitbit Pay, Google Wallet, Google Maps, Alexa Built-in, Always-On-Display
Call, Text, and App Alerts, Find My Phone, Fitbit Pay, Always-on-Display
Compatibility
Android 9.0 or Above, iOS 15.0 or Newer
Buy Now
Check Fitbit Sense 2 on Amazon
Check Fitbit Versa 4 on Amazon
Check Fitbit Charge 5 on Amazon
Fitbit Sense 2 vs Versa 4 vs Charge 5: Design & Sensors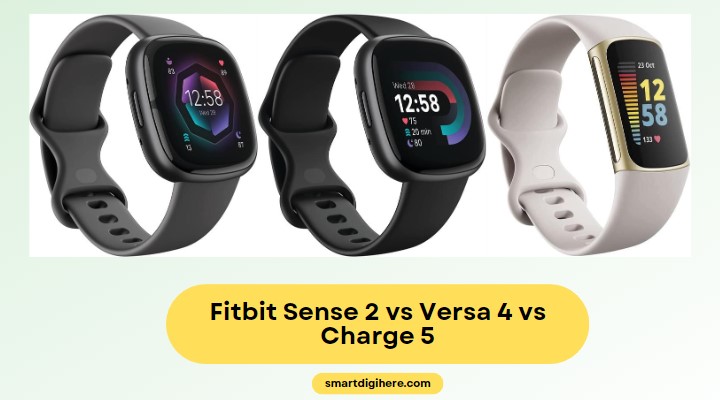 If you place the Sense 2 and Versa 4 side by side, you'll find barely any difference in overall dimensions and build quality. Both have an updated design compared to their predecessors, with the Sense 2 being ever-so-slightly thicker that's indiscernible to the ordinary eye.
They feature the same 'squircle'-shaped aluminum case with a rear plastic shell, the same tactile button on the edge, and the same large 1.58-inch Gorilla Glass 3-protected AMOLED screen with the same resolution of 336 x 336 pixels.
Unlike the Versa 4, the Fitbit Sense 2 features an upgraded design for collecting EDA and ECG readings. Unlike the original Sense, which featured a metal strip along the device's edge, the Sense 2 incorporates metal into the glass watch face. It enhances both the looks and user interaction.
On the other hand, the Charge 5 is a wearable of its own class. It has unique and understated aesthetics, with a sleek aluminum and stainless steel casing. The fitness tracker is much more compact and thinner compared to the other two models, making it suitable for all-day wear. It also has an always-on, full-color OLED touchscreen, albeit smaller than the Sense and Versa (but larger than the Luxe), and no side button.
All three wearables provide essential health-tracking features, with an optical heart rate and blood oxygen (SpO2) sensor. They also have GPS and GLONASS support for location tracking during exercise and NFC for contactless payments. Additionally, they all offer water resistance up to 5 ATM (50 meters) and track swimming activities.
The Sense 2, however, stands out with its more advanced sensor array, including a cEDA (Continuous Electrodermal Activity) sensor and a multipurpose electrical heart rate sensor, unlocking several health features that the Versa 4 misses out on. Surprisingly, the Charge 5 packs the same multipurpose electrical sensor as the Sense 2, minus the dedicated skin temperature sensor.
Apart from the following, the main differences lie in the band/case colorways:
Sense 2: Shadow Grey / Graphite Aluminum, Lunar White / Platinum Aluminum, Blue Mist / Soft Gold Aluminum
Versa 4: Black / Graphite Aluminum, Waterfall Blue / Platinum Aluminum, Pink Sand / Copper Rose Aluminum, Beet Juice / Copper Rose Aluminum
Charge 5: Black / Graphite Stainless Steel, Lunar White / Soft Gold Stainless Steel, Steel Blue / Platinum Stainless Steel
It's also worth mentioning that all three models are compatible with older Fitbit Sense, Versa, and Charge straps.
Fitbit Sense 2 vs Versa 4 vs Charge 5: Health Monitoring
Health monitoring is where the differences start to become more obvious between the three Fitbits. But let's start with the similarities anyway.
The Sense 2, Versa 4, and Charge 5 cover the basics, including 24/7 heart rate readings, low/high heart rate notifications, irregular heart rhythm alerts, and SpO2 blood oxygen saturation monitoring.
They also feature advanced sleep tracking, providing a personalized Sleep Score estimated from the previous night's sleep duration and time spent in different sleep stages overnight, i.e., light, deep, and REM.
All the following health data and more are presented through Fitbit's fantastic mobile app dashboard in a comprehensible manner. You also get detailed insights into HRV (Heart Rate Variability), RHR (Resting Heart Rate), breathing rate, blood glucose, and menstrual cycle tracking. It's the best among the likes of Apple and Garmin.
The Sense 2 and Charge 5, however, pack a few surprises that the Versa 4 doesn't – the FDA-certified EDA sensor that enables ECG assessment and allows users to identify symptoms of Afib (Atrial fibrillation). It also estimates your body's stress response over a period and improves your wellness through alerts to take breaks and guided breathing sessions.
It's worth noting the Versa 4 has the ability to auto-recognize irregular heartbeats through a recent firmware update. It provides many of the benefits of EDA-based ECG. However, having the capability to take an ECG reading and share it with a physician through the app can be life-saving for individuals with known heart conditions.
And while the Versa 4 and Charge 5 can track skin temperature variation during sleep using the device temperature sensor, the dedicated skin temperature sensor in the Sense 2 assesses your body's health and provides even further insights into potential illnesses.
Fitbit Sense 2 vs Versa 4 vs Charge 5: Fitness & Exercise Tracking
When it comes to fitness and workout tracking, expect a near-identical experience between the Sense 2, Versa 4, and Charge 5.
The three models cover all the basic stats, including steps, distance, floors climbed, calorie burn, etc. Plus, Active Zone Minutes, Cardio Fitness Score, Daily Readiness Score, and further useful metrics are available at your disposal within the Fitbit mobile app.
Fitbits are known for the wide range of exercise modes they offer. The good news is the Sense 2, Versa 4, and Charge 5 let you track your favorite workouts like runs, bike rides, weights, HIIT and CrossFit sessions, yoga, swims, and more, with real-time stats right on your wrist.
All three wearables support auto-exercise tracking and offer manual selections. And thanks to built-in GPS, outdoor activities are tracked more accurately, and you can check pace and distance on the wrist without taking your phone out.
All models can detect linear motion with their 3-axis accelerometer. However, the Sense 2 goes further by adding a gyroscope, which detects angular motion and offers more precise tracking for specific sports and workouts. The Charge 5, unlike its predecessor, doesn't have an altimeter built-in, so you won't get the altitude metric when hiking.
Fitbit doesn't disclose the IP ratings for any of its wearables. However, with the 5 ATM water-resistance level they promise, the Sense 2, Versa 4, and Charge 5 should withstand even the sweatiest workouts. You may also bring them to the shower, pools, or beaches, provided you don't submerge the devices underwater for extended periods.
Sense 2 vs Versa 4 vs Charge 5: Battery Life
When comparing battery life, the Sense 2 and Versa 4 exhibit similar results, with Fitbit claiming a 6-day battery life for both models. Of course, it varies depending on usage patterns, but the two watches generally align with each other.
With AOD (Always-on Display) disabled and a mix of GPS and non-GPS-based exercise tracking, you can almost squeeze up to a week of use. Enabling AOD increases the daily battery usage and drops the runtime to 3-4 days, quite a remarkable result for smartwatch standards. With that said, the cEDA sensor in the Sense 2 may lead to less endurance when actively used.
Nonetheless, both the Sense 2 and Versa 4 offer improved battery life over their predecessors, and the fact that they have fast charging support means you can gain back a day's worth of battery from just 12 minutes on the charging cradle.
The Charge 5, despite packing nearly the same array of sensors as the Sense 2 in a smaller form factor, manages up to 7-day battery life. Part of it is the smaller screen, though with always-on-display and GPS on, you're settling for a day or max two at full charge.
Fitbit Sense 2 vs Versa 4 vs Charge 5: Smartwatch Features
Smartwatch features are where the Sense 2 and Versa 4 offer an identical experience, as they're powered by Fitbit OS.
For instance, both pack an upgraded processor for fluid navigation and snappier interactions with the interface. The updated UI offers customizable data tiles and streamlines access to vital things like fitness stats, workout/exercise modes, etc. You also get Google Maps for turn-by-turn street navigation and Google Wallet for digital payments.
However, the rest is a significant downgrade from what the previous-gen Sense and Versa models offered. For some reason, Fitbit has deactivated Wi-Fi on the Sense 2 and Versa 4 despite the devices having the chipset. Even worse, the company has killed support for hundreds of third-party apps that it previously offered. It includes music streaming apps like Spotify, Pandora, and Deezer and fitness apps like Strava and TRX. Onboard Google Assistant support is also absent.
All this is a real bummer, but whether or not Fitbit's eradication of smart features is to make Google's Pixel Watch a more appealing smartwatch is a debate for another day. At least you can still make on-wrist calls and use Alexa voice assistant thanks to the onboard mic and speaker, check texts and other phone notifications, and pick from a sizable catalog of digital watch faces.
As for the Fitbit Charge 5, it allows you to check call, text, and app notifications from your phone and make contactless payments at supported terminals, but that's all you're getting in terms of smart features. The clock face collection is also slightly more limited.
The Fitbit mobile app is available for Android and iOS, so you can connect the Sense 2, Versa 4, and Charge 5 to your current phone via Bluetooth. All include a six-month Fitbit Premium membership that gets you access to dozens of additional workout modes, advanced sleep metrics, Daily Readiness Score, personalized wellness reports, etc.
Fitbit Sense 2 vs Versa 4 vs Charge 5: Which is Best?
The Fitbit Sense 2, Versa 4, and Charge 5 – all three are the top models to pick from the company's portfolio. Hence, a lot of which is the better option boils down to whether you want a feature-rich smartwatch or a more focused fitness tracker.
Of course, the Sense 2 and Versa 4 are closer in almost every aspect than they are to the Charge 5, whether it's the good-looking design and display, comprehensive activity and fitness tracking, moderate battery life, or the remaining handful of 'smart' features Fitbit offers.
Charge 5 offers the most comfortable fit amongst the three with its slender, low-profile design yet still manages to deliver nearly the same wellness monitoring experience as the Sense 2. However, if you frequently go out for outdoor activities, the battery life with GPS enabled may leave you somewhat underwhelmed.
The Versa 4 lacks the ECG capabilities of the Sense 2 and Charge 5 but somehow manages to make up for it with irregular heart rhythm warnings and stress monitoring using its existing optical HR sensor. The other two wearables undoubtedly provide more accurate and in-depth health tracking thanks to their advanced sensor arrays.
With all that in mind, we recommend choosing the model you believe is best suited to your needs, priorities, and preferences. Given the Sense 2, Versa 4, and Charge 5 often go on sale at deeply-discounted prices, it's ultimately on you to make the purchase decision.
Editor's Notes
The older Versa 3 and Sense, now available at massively slashed prices, may also appeal to those looking for Wi-Fi connectivity, third-party app support, and Google Assistant integration alongside Fitbit's signature fitness and health monitoring suite.
Then again, if you want a full-fledged smartwatch experience, consider better options like the Samsung Galaxy Watch 4, Ticwatch E3, or even one of the more affordable Garmin models like the Vivoactive 4. For lovers of fitness trackers, the Xiaomi Redmi Smart Band Pro or Mi Band 7 Pro are also worth checking out.