If you've been looking for new on-demand streaming platforms for a diverse array of content to enjoy on the big screen, you may have come across Viaplay. Originating as Viasat On Demand in 2007, Viaplay is a Stockholm-based streamer offering movies, series, documentaries, and live sports (in select markets).
Like other video-on-demand apps, subscribers can access Viaplay on various devices, including mobiles and tablets, computers, televisions, and streaming players. You're here to know if the service is available on Amazon Firestick, to which we can gladly say: Yes!
This guide covers everything you need to know about Viaplay on Firestick (and other Amazon Fire TV devices), also discussing the service's offerings in detail.
What Does Viaplay on Firestick Have to Offer?
If you're a fan of Scandinavian noirs, Viaplay has to offer the best of it, with a sizeable collection of dark, gripping crime thrillers bound to keep you on the edge of your seat.
But that's not where it ends – the streaming platform also offers a vast catalogue of acclaimed Nordic dramas and comedies, plus complete seasons of some cult favourites. And with that comes a continually-evolving selection of Viaplay Originals, such as Cell 8, Partisan, Fenris, Harmonica, Honour, Those Who Kill, A Class Apart, and many more.
Additionally, Viaplay features a broader library of award-winning movies and documentaries. It'll keep you busy between your series' binges. The platform also premieres a new film every week to enjoy. You have over 1,500 hours of advertisement-free, on-demand goodness to discover and watch.
Viaplay also offers live sports streams in select regions, as its parent company has coverage rights to numerous sporting events across many markets. For instance, subscribers in the UK can watch the UEFA European Qualifiers, Nations League, La Liga, Coppa Italia, Scottish Cup, United Rugby Championship, Top 14, National Hockey League, NASCAR, etc.
Where Can I Get Viaplay?
Besides the United Kingdom, Ireland, the Netherlands, and Poland, Viaplay serves several Nordic countries, including Norway, Finland, Denmark, Sweden, and Iceland, alongside Baltic nations like Estonia, Latvia, and Lithuania.
At the time of writing, the platform also announced its expansion to Austria, Germany, and Switzerland. Further, Viaplay is now available in the United States, making its second North American debut in Canada soon. Of course, the availability of acquired titles and sports streams may vary between regions.
How to Get Viaplay on Firestick?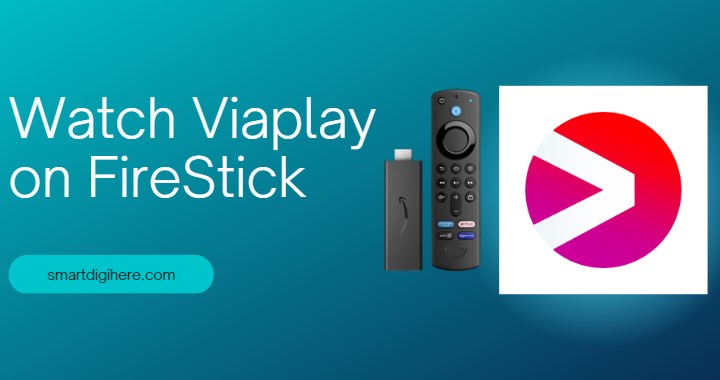 Viaplay officially supports Amazon Fire TV devices, meaning you can download it from your Firestick's Amazon Appstore. Chances are you already know how to do so, but feel free to follow the steps below:
On your Firestick, navigate to the Find tab on your Home screen using your Fire TV Remote.
Select the Search tile and type "Viaplay" by selecting the individual letters on the virtual keyboard.
Alternatively, press the Voice button on the remote and say, "Find the Viaplay app."
Scroll down to the results and select the matching app name, then choose the Viaplay app icon under "Apps & Games" on the following screen.
Finally, click Get under the app's description and wait for the download to finish.
You can open Viaplay on Firestick from the "Your Apps & Channels" menu, which you can access by clicking the Apps (three boxes with a plus symbol) icon on the right-hand side of the Home screen navigation bar.
To add the Viaplay shortcut to your Fire TV Home, highlight the app icon, press the Menu (≡) remote button, select Move from the options that appear on the right side of the screen, and use the D-Pad to move Viaplay to the top row among the first six apps.
How to Activate Viaplay on Firestick?
Before streaming shows, films, and sports from Viaplay on Firestick, you must log in with an active subscription plan. Provided you don't have one, head to viaplay.com from your browser and click the "Get Viaplay" button. If you're lucky, you can try out the streaming service for free for a week, which you can cancel anytime.
Once you choose your preferred streaming package, enter the email address and password you wish to use as your login details for Viaplay, and click Create Account. After that, choose your payment method to verify your banking details to confirm your purchase.
If you have your Viaplay account ready, perform the following steps to activate the Viaplay app on Firestick:
Launch Viaplay from your Firestick's Home screen or "Your Apps & Channels" list.
You can sign in the good old way with email and password or a temporary activation code. We recommend continuing with the latter.
If you choose to log in with email address and password, simply fill in the respective fields with your account details using the remote.
Signing in with the activation code should give you a four-character code on the screen.

Visit viaplay.com/activate on your phone, tablet, or computer.
Enter your email and password, then click Log in.
Next, type the activation code on the following screen and hit Send.
After a few seconds, Viaplay should automatically log you into the app's Home page. You're then free to explore the on-demand library and stream the title of your choice. Below are a few features of Viaplay on Firestick:
Viaplay Fire TV App Features
Stream critically-acclaimed Nordic noirs, films, and documentaries in up to 4K UHD with Dolby Digital Plus audio.
Resume watching the TV show episode or film from where you left off on another device.
Automatically play the next episode to make your bingeing sessions efficient.
Add titles to your favourites for later viewing across supported devices.
Watch sporting events on-demand for up to two days after the initial broadcast.
Viaplay on Firestick lets you rewind live sports streams, so you never miss out on the continuous action on the field.
Enjoy all on-demand movies and shows with subtitles and audio tracks in your preferred language.
Create up to six user profiles, so you never need to share your watchlist with other family members.
Note for Premier Sports Subscribers (UK Only)
Viaplay replaced the Premier Sports service in the United Kingdom. If you previously paid for a Premier Sports subscription, you can log into the Viaplay app on Firestick with the same email and password you had earlier. You'll be charged for the £15 monthly Viaplay Total plan from the same payment method, now with additional access to movies and series.
Related Posts:
Enjoy Streaming from Viaplay on Firestick!
With Viaplay on Firestick, you get unlimited access to complete box sets, hundreds of popular films, informative documentaries, and children's programming, plus live streams of professional sporting events and much more. For optimal streaming in Full HD (1080p), Viaplay recommends a 10 Mbps downlink at minimum, with 20 Mbps or higher for 4K content.