Are you settling in for a cosy binge night with the JioCinema on your TV but unable to watch your favourite show or film? Or are you frustrated with constant buffering and playback errors while streaming IPL or other sports on JioCinema?
If yes, then you aren't alone. With recent updates, JioCinema has been somewhat plagued with technical glitches and connectivity issues, causing the app or live stream to malfunction, disrupting your entertainment experience.
But don't worry – our troubleshooting guide will help you to fix the JioCinema app or live stream not working issue and get you back to your favourite movies, shows, or that highly-anticipated live cricket match in no time.
How to Fix JioCinema App or Live Stream Not Working Issue?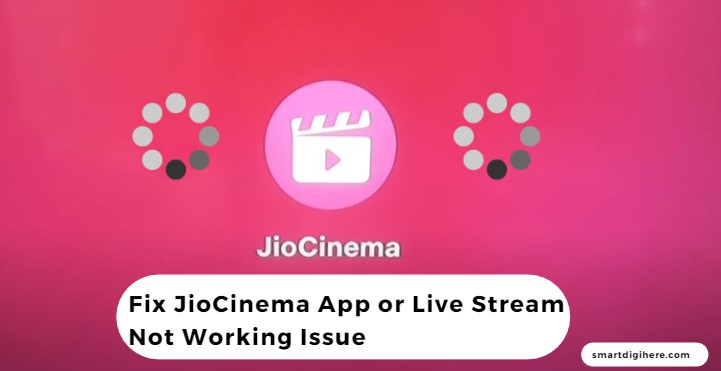 Fix JioCinema App or Live Stream Lagging / Buffering / Crashing Issues
If you're experiencing buffering or lagging issues while streaming live content on JioCinema, use the following troubleshooting steps to improve your experience.
For Phones and Tablets
For Android and iOS devices, ensure you have the latest version of JioCinema installed. You can do so by heading to the Play Store or App Store, navigating to the menu where you see your pending updates, and tapping the Update button next to the JioCinema app.
If you're still experiencing issues, try clearing the app's cache and data on your device. On most Android phones and tablets, tap and hold the JioCinema icon in your home screen or app drawer and select App Info ⓘ. Next, go to the "Storage & cache" menu and tap either of the options: Clear cache or Clear storage.
On an iPhone or iPad, reinstalling the JioCinema app may resolve the playback issues. Also, try restarting your device to see if that helps improve the streaming quality.
For Smart TVs
All the above methods apply to smart TVs and streaming devices too. Ensure the JioCinema app is up to date and wipe the cache and data of the app, which may vary depending on the make and model of your TV or streaming player. You can also try uninstalling and reinstalling the app for a fix.
Also, see:
For Computers
If you're streaming JioCinema on your computer, check your network by opening another website, preferably another streaming site like YouTube, in another tab or browser. Another solution that's often effective is to clear your browser's cache and cookies from your browser settings:
Google Chrome: Click the More (⋮) menu and select Settings. Go to Privacy and security, choose Clear browsing data, set the Time range to "All time", uncheck all boxes except "Cookies and other site data," and click Clear data.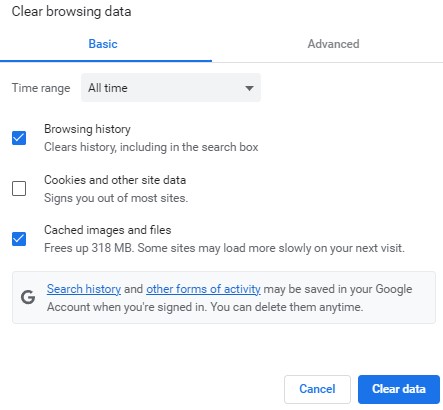 Microsoft Edge: Go to Settings > Privacy, search, and services. Scroll to the "Clear browsing data" section and click Choose what to clear. Untick all options except "Cookies and other site data", and click Clear now.
Mozilla Firefox: Click the Menu icon and select Settings. Go to Privacy & Security, choose Cookies and Site Data, and click the Clear Data
Apple Safari: Navigate to Preferences > Privacy > Manage Website Data, enter com in the search field, and click Remove.
For any supported browsers, visit the JioCinema website on a private window or in Incognito mode. Also, disable or uninstall any ad-blocker extensions or plugins that may interfere with the site. Check if these workarounds resolve the buffering or lagging issue. Here are all the other JioCinema technical issues for which the above workarounds may apply:
JioCinema Home content refusing to load
Error code 6001, 6002, 6005, and 6007
Error code 8001, 8002, 8005, and 8007
Out-of-sync audio when watching a live/on-demand stream
Video plays with no audio or vice-versa
Fix JioCinema Poor Video Quality
If you're bothered by poor video quality in the JioCinema app, it might be due to your internet connection. To start, check your internet speed from websites like speedtest.net or fast.com. JioCinema recommends at least 2 Mbps for standard definition, 5 Mbps for 1080p content, 8 Mbps for live streams, and 15 Mbps for 4K.
You should also verify the stability of your internet connection by testing other internet-heavy apps or websites. It's as simple as performing a Google search in a new browser tab.
Or, examine if JioCinema works fine on another device on your network. Provided no other devices are connected to your router, and you still face video quality or playback issues, it's probably your internet connection. In that case, you must contact your internet service provider for a resolution.
If you're streaming over Wi-Fi, try restarting your router. Press the dedicated power button or unplug and re-plug the router back in to do so.
No 720p or 1080p Video Quality Option on Android
HD and FHD quality options are exclusive to Android devices with Widevine L1 DRM certification. However, legacy L3-certified devices can only stream up to 480p, except for live events. Therefore, your device must support Widevine L1 certification for playing 1080p or higher resolution content via JioCinema.
You can check your device's certification level by downloading the DRM Info app from the Play Store and looking for the Security Level under the Widevine CDM section.
Fix Unable to Open JioCinema App / Crashing
One of the simplest solutions is to close and reopen the JioCinema, which is proven to solve random bugs or glitches that may result in frequent crashes. Signing out and back in may also be helpful, and some users may need to uninstall and reinstall the app entirely.
Another widely-trusted troubleshooting method known to fix many problems is restarting the device. For most devices, you press and hold the Power button and select Restart to initiate a reboot.
Are You Using a VPN? Read This
JioCinema is exclusively available in India and cannot be accessed in other countries. If you're outside India and attempting to stream content on JioCinema, the app won't function.
Sure, you may use VPN for privacy and security purposes. However, some geo-restricted services, including streaming platforms, may identify users who use them and permanently block access to their content. If you're on a VPN server, we recommend switching it off before using the JioCinema app.
Final Words
Troubleshooting issues with the JioCinem live stream not working or the Jiocinema app not working can be frustrating, but it's essential to identify what's causing the problem to fix it effectively.
By following our tried-and-tested suggestions in this guide, you should be able to resolve most of the common JioCinema issues and go back to streaming your favourite movies, shows, and live sports without disruption.
If none of the fixes resolves your issues with the JioCinema app or live stream, consider seeking further assistance from the Help Center on the JioCinema website (help.jiocinema.com). Alternatively, visit help.jiocinema.com/support/requests/new to raise a support ticket.