We're already two months into 2023. But the previous year's unfinished business remains in the film industry. Clearing it is the 95th Academy Awards or the 2023 Oscars, arguably the oldest and most prestigious, significant awards ceremony equivalent to the Emmys and Grammys of their respective entertainment industries.
The roster of 2023 Oscars nominees presents a remarkably even-handed array. It consists of diverse selections of films spanning various genres, with billion-dollar blockbusters like Avatar: The Way of Water, Black Panther: Wakanda Forever, and Top Gun: Maverick and introspective dramas such as The Banshees of Inisherin and Women Talking. There's a cinematic offering to cater to all kinds of viewers.
It'd be a crime not to mention A24's absurd indie hit "Everything Everywhere All At Once," topping the chart with 11 nominations, with Elvis and The Fabelmans following closely behind for the Academy Award for Best Picture. And with the whole debacle involving Will Smith and Chris Rock last year, it's safe to bet this year's Oscars will be interesting.
How to Watch Oscars on Samsung Smart TV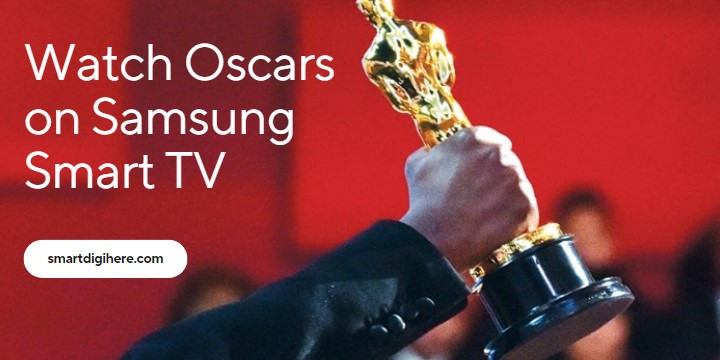 Of course, you're looking for ways to watch Oscars on Samsung Smart TV, and we got that covered. Read on to find out how below.
Watch Oscars on Samsung Smart TV via ABC
As the previous years, ABC in the United States is to air the 2023 Academy Awards live on television. Anyone with a basic cable or satellite pay-TV package can access the channel.
ABC is also available as a streaming app for Samsung Smart TVs running Tizen. You can get it from your TV's Apps Store and activate the app with your cable, satellite, or streaming (more on that later) provider to stream the awards ceremony online.
Provided you're a cord cutter, worry not: we've discussed a few other ways to watch the 2023 Oscars on Samsung Smart TV without cable in the following section.
Watch Oscars 2023 on Samsung Smart TV Without Cable
With the advent of streaming television platforms, it's now possible to watch the 2023 Oscars on Samsung Smart TV without cable or satellite. Here are a few options you may find interesting:
1. Watch Oscars on DirecTV Stream (Free Trial)
DirecTV Stream is one of the younger competitors in the live TV streaming business, but it also offers some of the more versatile plans out there. Its base Entertainment package carries 75+ channels, including ABC, meaning you can stream the 95th Academy Awards online on your Samsung Smart TV and more.
Even better is the 5-day free trial that allows new subscribers to watch ABC's Oscars coverage at no cost. Before the trial ends, choose to continue your DirecTV Stream plan or cancel it.
2. Enjoy Oscars 2023 on FuboTV (Free Trial)
FuboTV is another compelling option for watching the Oscars without cable. Its base Pro plan offers over 130 channels, including ABC, which you can stream on your Samsung Smart TV and other compatible screens.
FuboTV, for a limited time, is offering a 7-day free trial. Register from the official site and stream the 2023 Oscars live for free. It'll charge you $75 for the monthly plan following the end of the trial period.
3. Stream Oscars on YouTube TV (Free Trial)
YouTube TV's also offering a limited-time free trial on their monthly Base Plan. It gets you ABC and 100+ top live entertainment, sports, and news channels, unlimited DVR, and up to three streams per household. Should you wish to keep the subscription after watching the Oscars, YouTube TV will give you a $10 discount for the first three months.
4. Catch Oscars 2023 on Hulu + Live TV
Hulu + Live TV combines Hulu's on-demand streaming library and live TV channel streaming. This service provides access to over 85+ American channels, including ABC, allowing you to watch the 2023 Academy Awards on your Samsung Smart TV.
The subscription provides complimentary access to Disney+ and ESPN+, making Hulu + Live TV a fantastic value beyond ABC's 2023 Oscars live stream.
You may also wonder: Does Samsung Frame TV Come with a Wall Mount?
Activate ABC on Samsung Smart TV with your TV Provider
The above live TV services have made their native standalone apps available for Tizen-powered Samsung Smart TVs. But as we mentioned in the beginning, you may also use your streaming television subscription to sign into the ABC app. Here's what you need to do:
Download the ABC app on your Samsung TV. You can do so by going to the Home menu, selecting Apps, searching for "ABC" in the Search menu, and clicking Install.
Once installed, select Add to Home, press the Home button on the remote, and launch the ABC app from your top apps row.
Head to the app's Account tab, select where it says TV Provider, and click Sign In. The following screen will give you a 7-character code.
Go to abc.com/activate from your phone, tablet, or computer, enter the code, and click Continue.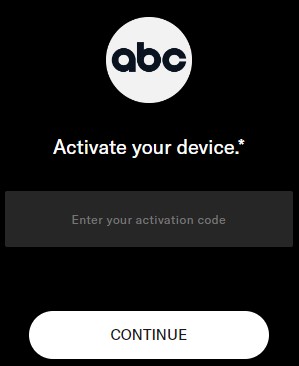 Choose your TV Provider (e.g., Hulu, YouTube TV) from the list and follow the on-screen instructions to log in with your provider account details.
You may now tune into the live 2023 Oscars stream from the Live TV section of the ABC app on your Samsung Smart TV.
Watch Oscars on Samsung Smart TV For Free
If you wish to watch ABC's Oscars 2023 presentation on your Samsung Smart TV for free, get a digital HDTV antenna like this one from Insignia. Assuming you live in an area close to an ABC affiliate station with adequate reception, connecting a digital antenna will allow it to scan and pick up for all local over-the-air channel broadcasts, including ABC.
Other solutions include streaming television services offering a limited-time free trial, such as DirecTV Stream, FuboTV, and YouTube TV. You can sign up for any of the following, install and log into the respective streaming app on your supported Samsung Smart TV, stream the Oscars on ABC, and cancel your plan afterward without getting charged.
Recommended Reading:
Wrapping Up
So this is how you watch Oscars on Samsung Smart TV. Besides traditional means, we've highlighted a few viable streaming options offering the live Academy Awards broadcast. What are you looking forward to this year's Oscars the most? Do tell us in the comments below.