BT Sport is a group of television channels dedicated to sports coverage in the United Kingdom and Ireland. It's similar to Sky Sports but features different sporting events and matches thanks to its own set of broadcast deals and acquired media rights.
When it first premiered in 2013, BT Sport had made three channels accessible to all BT broadband customers, whether they were watching on their television through Sky, online or through the BT Sport mobile app. Things have changed a lot since then.
As a top-tier sports entertainment provider, BT Sport offers unparalleled access to some of the most prestigious football leagues in the world, including the Premier League, UEFA Champions League, FA Cup, and many others. It even airs boxing (pay-per-views), cricket, motorsports, rugby, tennis, and more.
You can have BT Sport on not just satellite or cable but on your phone, tablet, computer, and television too. In fact, 2019 was the year Samsung partnered up with BT Sport to be the first Smart TV platform to offer the BT Sport app, with access to the 4K UHD channel for viewers to watch their favourite sports events in stunning fidelity.
Want to know how to watch BT Sport on Samsung Smart TV? Luckily, you've come to the right place! From the abundance of TV plans to the installation and activation process, this guide will cover everything you need.
How to Get BT Sport on Samsung Smart TV?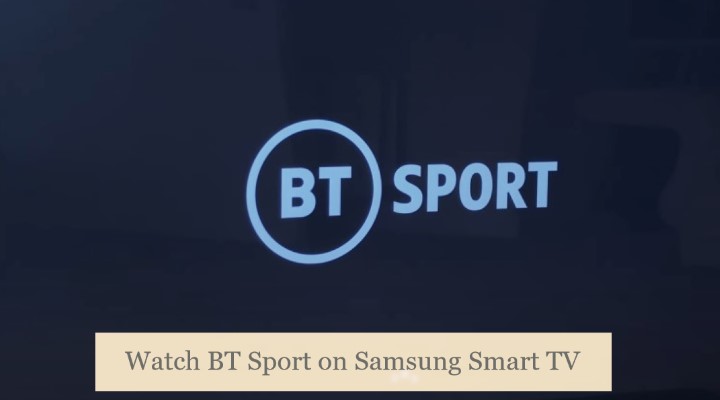 The BT Sport app is available for all Samsung Smart TVs manufactured in 2015 and later. However, to watch all the upcoming sporting action live and on-demand, you must have an active subscription and log into the app with your BT ID. Fortunately, BT Sport offers a flexible way to enjoy all its sports content without signing up for an extended commitment.
The BT Sport Monthly Pass allows you to pay as you go, with 30 days at a time. You get unlimited access to BT Sport alongside BT Sport Ultimate, which delivers 4K (and HDR) streams for select football matches and other sports events on your supported Samsung Smart TV.
What if I Already Have a BT/Sky/Virgin Media Subscription?
In that case, you can use your BT, Sky, or Virgin Media set-top box to watch BT Sport on your Samsung TV. However, depending on your package benefits, you may also use your existing TV subscription to stream via the BT Sport app on your Samsung Smart TV.
Adding BT Sport to your existing BT Broadband and BT TV setup is straightforward. You can add BT Sport to your BT TV package as an add-on. Or, bundle it with your BT Broadband. For new customers, the starting price for the BT Sport package is the same as the BT Sport Monthly Pass. It's best to get pricing directly from BT instead of through intermediaries like Sky or Virgin Media.
If you're a BT Broadband subscriber without BT TV, you can still enjoy BT Sport by streaming it via the app on your Samsung Smart TV. The pricing is slightly more expensive than adding it to a BT TV package, but considering the range of channels and upcoming sports events, it's a good value.
Those who already have a Sky TV subscription, don't worry – a mutual agreement between the providers permits Sky customers access to BT Sport. Of course, you must set it up through BT rather than Sky. BT Sport HD on Sky is available on a monthly or yearly rolling contract on the official BT website.
Virgin Media customers have a selection of BT Sport packages, though most aren't that budget-friendly, and none offers complimentary streaming access via the BT Sport app. Nevertheless, all the BT Sport packages available through Virgin Broadband come with HD versions of the channels.
Related: How Do I Find BT Sport Channel Numbers On Sky, Virgin, BT, TalkTalk & Plusnet?
How to Install BT Sport on Samsung Smart TV?
As mentioned earlier, if you have a 2015 or newer Samsung Smart TV model, you'll be able to watch your favourite sports content via the BT Sports app. Here's how you can install it on a 2022 model:
Navigate to the Home screen on your TV if you aren't there already. Simply press the Home button on your TV remote.
Scroll down to your apps row and click "Apps". Then, in the top-right corner, select the magnifying glass icon, which will bring up the Search function.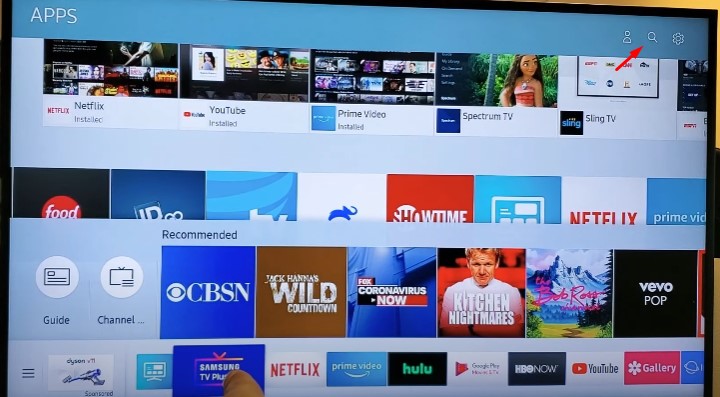 To find the BT Sport app, use the virtual keyboard to search for it. After that, select the matching result in the list.
On the app's preview screen, click Install. Once it finishes, select Add to Home to add BT Sport to your Home Screen.
On the Home screen, head to your apps row to launch the BT Sport app. To rearrange it, go to the right end and select "Edit List". Then, choose BT Sport and click "Move" to place it in your preferred location.
It's worth noting that the installation process slightly differs on older Tizen versions, but it should be more or less the same.
How to Activate BT Sport on Samsung Smart TV?
When you launch the BT Sport app on your Samsung Smart TV, the login screen is the first thing you'll see. All you have to do is carefully enter your BT ID username and password to sign in, and you're off to watch your favourite sports content in no time. The app will retain your credentials and keep you logged in for added convenience.
Also Read: IPTV on Sky Glass
What if I Don't Have a BT ID?
If you're a BT TV or Broadband customer or signed up for BT Sport Monthly Pass, you should already have your BT ID. However, anyone with BT Sport as part of their Sky, EE Mobile, or Plusnet subscription must create a BT ID separately. Reach out to your respective provider to assist you with the registration process, which usually requires your email address and the account number on your latest bill.
If you encounter the "This username already exists. Log in or choose another email address" message while creating your BT ID, it means your email is linked to an existing BT ID account.
In case you've forgotten your password, reset it online via BT's portal. You'll need to provide your BT ID username and the response to your security question.
What Can You Watch on the BT Sport App?
You can stream nearly everything BT Sport airs on their regular channels in the UK. The network is renowned for its extensive coverage of premier sporting events, particularly in the football realm. With unparalleled access to the Premier League, UEFA Champions League, UEFA Europa League, Ligue 1, Serie A, and more, BT Sport is the destination for football fans.
Additionally, the platform boasts the rights to a multitude of other high-stakes sporting events such as basketball, cricket, rugby, Moto GP, UFC (PPVs on BT Sport Box Office), and more, truly making it the one-stop-shop for all things sports entertainment.
Here are some of the features of the BT Sport app on Samsung Smart TV for those interested:
Stream all channels (BT Sport 1/2/3 and BT Sport ESPN) live in up to 1080p@50 FPS
4K HDR & Dolby Atmos audio for select events (requires BT Sport Ultimate)
Access highlights and clips on-demand to catch up with ongoing tournaments
Timeline for football and rugby matches to relive crucial moments.
Every UEFA Champions League and UEFA Europa League match live
For an optimal BT Sport experience on your Samsung Smart TV, a 6 Mbps connection is needed, with 30 Mbps or higher for 4K HDR – preferably over an Ethernet cable and not Wi-Fi.
BT Sport Ultimate programming in "Enhanced HDR" is available on Samsung Smart TVs from 2016-2017 (and later) models, whereas 4K HDR is supported on models manufactured between 2018 and 2019 (and newer).
Watch BT Sport on Samsung Smart TV via NOW (Ireland Only)
The ordeal one has to go through to watch BT Sport on Samsung Smart TV is admittedly discouraging to some. However, if you're in Ireland, you can purchase a monthly Sports Extra Membership on Sky's streaming alternative, NOW, to tune into BT Sport's live coverage of your favourite football, rugby, and motorsport events.
Signing up is as easy as a Netflix subscription. Simply head to nowtv.com from your browser, click the Join NOW button, scroll down to the "Sports Membership" section, pick the Sports Extra Month Membership, and follow the prompts to register for a NOW account.
At the time of writing, new users can get the membership at half the price for the first four months. It includes BT Sport 1, 2, 3, 4, and the Premier Sport 1 and 2 channels. The regular Sports Membership features all 11 Sky Sports channels if you're wondering.
You can get the NOW app on your Samsung Smart TV (2016 or newer models) in the same way we've shown you how to install the BT Sport app (check above). Note you'll also need to get the NOW Boost add-on to stream the sports channel in Full HD with surround sound.
While NOW also offers its services in the United Kingdom, it only covers the Sky Sports channels, not the BT Sport ones.
Related Posts:
Enjoy BT Sport on Samsung Smart TV!
And that's how you can watch BT Sport on Samsung Smart TV. We've pretty much figured out most of the complex part, so all that's left for you is to get your BT Sport subscription from your preferred provider, install the app, and sign in. Once you do all that, sit back, relax, and tune in to your favourite sports content!