The stage is set, the battle lines are drawn, and the anticipation is all-time-high as Manchester City and Manchester United, two formidable adversaries, prepare to lock horns in the epic 2022-23 FA Cup final.
This marks the first time a Manchester derby takes place in the final of a senior football competition. The stakes are high, as both teams are vying for the FA Cup glory and their spots in the upcoming European leagues. With this extra layer of intensity and excitement to an already storied rivalry, the atmosphere promises to be nothing short of electric.
Manchester City, the reigning Premier League champions, aim to achieve the elusive continental treble, while Manchester United, under the tactical genius of manager Erik ten Hag, seek to add another trophy to their collection after their recent EFL Cup triumph.
But fear not, for you won't miss a second of this electrifying encounter, even if you can't make it to Wembley Stadium. Our comprehensive guide covers ways to watch Man City vs Man United on Smart TV, helping you transform your living room couch into your personal front-row seat to the Manchester derby.
Where to Watch Man City vs Man United 2023 FA Cup Finals on Smart TV?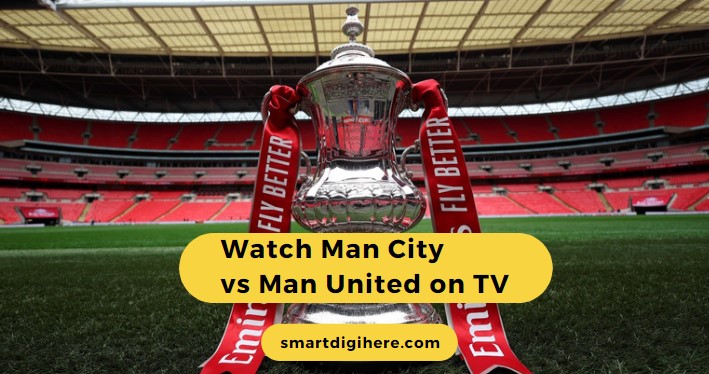 Like the rest of the 2022-23 FA Cup season, the momentous final between Manchester City and Manchester United at the iconic Wembley Stadium is airing worldwide for football fans to experience.
United Kingdom
ITV shares broadcasting rights with the BBC for FA Cup games in the United Kingdom, and it'll be airing the finals nationwide on its ITV1 broadcast channel. You can stream it on your Freeview Play, Freesat, or YouView-enabled Smart TV via ITVX and BBC iPlayer and here's the real kicker: for FREE! Both streaming apps are available for Sky Q boxes, Sky Glass TV, Sky Stream Puck, and Virgin Media devices.
United States
ESPN has been the exclusive FA Cup broadcaster for the 2022-23 season in the United States, and that's where soccer fans can watch the action between Man City and Man Utd unfold.
On a supported Smart TV, you can stream the finals live on ESPN Plus, which has been showing all the FA Cup games of this season and is the destination for Bundesliga, La Liga, and other sporting events.
ESPN+ is available as a standalone monthly and annual subscription. However, you can get a bang for your buck by grabbing it as part of the Disney Bundle, which offers access to all the great shows, movies, and documentaries Disney+ and Hulu have.
Canada
Sportsnet is airing the Manchester derby in Canada as the rest of the fixtures from the 2022-23 FA Cup season. Anyone without a cable or satellite subscription can subscribe to Sportsnet's SN NOW streaming service to access FA Cup and Bundesliga coverage, plus rugby, hockey, wrestling, etc.
SN NOW is available for various Smart TV platforms, including Android TV, Chromecast, Apple TV, Amazon Fire TV, and Samsung Smart TV, as well as the Ignite TV set-top boxes and the previous and current-gen PlayStation and Xbox consoles.
Australia
While Channel 10 no longer broadcasts the FA Cup in Australia, you can watch the final between Manchester City and Manchester United live via the Paramount+ app on your Smart TV or streaming media player.
For $9 a month, the subscription is reasonable, and you'll also get to stream some of the greatest Hollywood hits and exclusive originals. You can access Paramount Plus on the following devices:
Android TV
Apple TV (Gen 4 and later)
Chromecast
Amazon Fire TV
LG Smart TV (2018 or newer, webOS 4.0+)
Samsung Smart TV (2017 or newer)
Fetch, Foxtel, and Telstra TV boxes
New Zealand
Kiwi footy fans can enjoy the historic Manchester derby in the 2023 FA Cup finals on Sky Sport. Smart TV owners with a weekly, monthly, or annual subscription to Sky Sport Now can watch the game live and on-demand alongside more football and other sporting events from the Sky Sport and ESPN channels.
Supported Smart TV devices include Apple TV, Android TV (TVs from TCL and Sony and NVIDIA SHIELD), Fire TV, Chromecast, and select LG (2018+), Panasonic (2019+), and Samsung Smart TV (2017+) models. PlayStation 4 and 5 are also compatible, in case you're wondering.
India
Sony Pictures Networks has the FA Cup coverage rights in the Indian subcontinent, with the Man City vs Man United game hosted across the Sony Ten TV channel and the SonyLIV OTT streaming service.
With a SonyLIV monthly or annual subscription (except the mobile-only plans), you can watch the FA Cup final on your Android TV, Chromecast, Apple TV, Amazon Fire TV device or compatible LG or Samsung Smart TV model.
Rest of the World
Besides the six nations for which we've highlighted the options to watch Manchester City vs Manchester United in the 2023 FA Cup final on Smart TV, the game is airing in hundreds of countries across Europe, Asia, and the Americas.
It's difficult for us to cover every streaming service for particular regions. But with this global TV listing (https://tinyurl.com/2p9jhecx) for the football game (credits: livesoccertv.com), you should be able to find the digital platform via which you can stream the Manchester derby on your Smart TV.
Enjoy Man City vs Man United on Smart TV
As the final whistle blows and the echoes of the roaring crowd subside, you'll have experienced a spectacle that'll be talked about for years to come. The 2023 FA Cup final between Manchester City and Manchester United will surely go down in history as a defining moment in the annals of football rivalry.
Now that you know which over-the-top service is streaming the City vs United final, it's a matter of downloading the app on your compatible Smart TV and following the on-screen prompts to sign up and log in. The process largely varies between apps and devices, but it should be relatively simple for most of you Smart TV owners.
We have a series of guides covering step-by-step instructions for installing and activating ITVX on various Smart TVs and streaming boxes – so for other streaming apps like ESPN+ and Paramount+ across a range of devices. Be sure to check them out first, and if you need assistance, we're here to help.