Prepare for the upcoming big game and RiRi halftime show as the countdown to the 2023 Super Bowl inches every bit closer. Over 70,000 attendees are to pack into the State Farm Stadium to observe the final showdown between the Philadelphia Eagles and Kansas City Chiefs up close and personal. However, for the rest of us folks, the living room TV it is.
The good thing is that nowadays, it's really easy to tune into the NFL championship game from the comfort of your home, even if you don't have cable. This guide is particularly about watching Super Bowl on Apple TV, for which there's a multitude of viable options. So, let us walk you through them one by one – starting with the FOX Sports app.
Watch Super Bowl 2023 on Apple TV via the FOX Sports App
The FOX Sports app for Apple TV allows viewers to live-stream not only NFL but also NASCAR, WWE, Formula E, PBA, college sports, rugby, tennis, and other sporting events to which Fox has coverage rights. It also offers highlights and recaps of big moments in football and other sports, plus live news and comprehensive analysis.
Three years after its Super Bowl LIV presentation in 2020, Fox is back on the broadcast chair to air the exciting match-up between Philadelphia Eagles and Kansas City Chiefs live from the State Farm Stadium in Glendale, Arizona. Like CBS and NBC in previous years, Fox is also streaming the event on its FOX Sports app.
It also marks the second time Fox presents the Super Bowl in 4K. It isn't native 8.3 million pixels, mind you, and is actually an upsampled 1080p feed. However, the gain in clarity and sharpness alongside the HDR implementation makes it a visual treat compared to bog-standard interpolated high-definition broadcasts.
Provided you have a 5th-gen Apple TV 4K box connected to a compatible screen, watch the 2023 Super Bowl via the FOX Sports app in ultra-high-definition quality. 4th-gen Apple TV owners, on the other hand, will have to do with 1080p.
FOX Sports is available on the App Store for Apple TVs running tvOS 14.0 or later. Though free to download, the Super Bowl live stream and other content require a subscription with one of the many cable, satellite, and over-the-top TV providers in the United States.
Steps to Install FOX Sports on Apple TV
After powering on and connecting your Apple TV to the internet, follow these steps to install the FOX Sports app:
Use your Siri Remote to navigate to the App Store from your Apple TV Home Screen.
Select the Search (magnifying glass) icon in the upper navigation bar and find the FOX Sports Type the name using the on-screen keyboard.

Click the Get button on the description screen.
You'll know the app is successfully installed when the Open button appears. You can launch FOX Sports directly from the App Store page or your Apple TV Home Screen.
How to Watch Super Bowl on Apple TV with FOX Sports
Assuming you have your TV provider credentials on hand, streaming Super Bowl on the FOX Sports Apple TV app is a matter of a few steps, which involve the following:
Open the FOX Sports app from the Home Screen of your Apple TV.
Scroll to the Settings tab from the top navigation and select TV Provider Sign In. The next screen will give you an activation code.
Use your mobile device or computer to go to go.foxsports.com, enter the activation code, and hit Submit.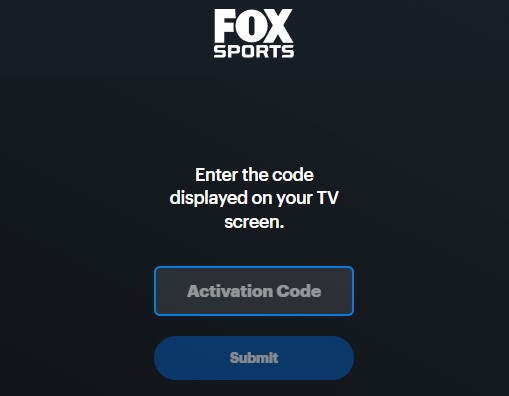 Go through the on-screen prompts. You'll need to choose your TV provider and sign in with your account details.
When you're in, the first thing you should see is the "Super Bowl LVII" banner on the app's Home page. Click the Watch Live button to tune into the live stream, and you'll be watching the Super Bowl on your Apple TV.
If you don't want to go through all that hassle, you may also get the FOX Sports app on your iPhone or iPad via App Store and sign in, play the live stream, tap the AirPlay icon on your device, and stream the Super Bowl to your Apple TV – all without even picking up the remote.
Watch Super Bowl on Apple TV via Live TV Apps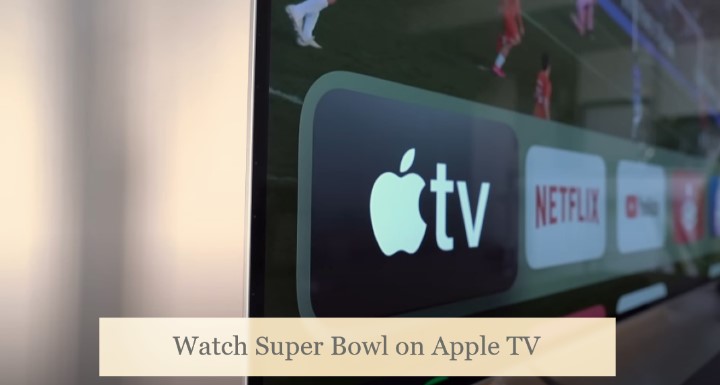 As mentioned before, watching the NFL championship on FOX Sports demands an active cable or satellite connection. While even the most basic TV plans include the FOX channel, many of you may be unwilling to renew your contract or have cut the cord a long time ago. Fortunately, the app also allows signing in with streaming television providers.
Services such as DirecTV Stream, FuboTV, Hulu with Live TV, Sling TV, Vidgo, and YouTube TV carry FOX and a dozen more networks alongside it. You can sign up for one of the following to watch Super Bowl LVII on Apple TV via their own streaming apps too. Below we've discussed every option in detail:
Sling TV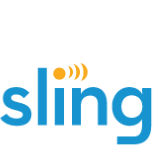 Let's start with perhaps the most reasonably-priced option in the bunch, Sling TV. Not only does the Sling Blue plan cost less than most cable and satellite packages, but it can also be availed at half the price for the first month.
At about $20 on the first month of your Blue subscription, you're getting 35+ channels (incl. FOX, NBC, and NFL Network), 50 hours of recording time, and three device streams. If all you're looking forward to is the Super Bowl, this is probably your best option to catch the game live on your Apple TV at the moment.
FuboTV
Are you searching for a long-term solution to your American football fix? FuboTV might be the live TV streaming service for you. The Pro plan offers 140+ channels, with networks like ABC, CBS, FOX, ESPN, and NFL Network under its umbrella, plus 1000 hours of cloud DVR space and up to ten simultaneous streams at home.
Besides NFL, you get access to over 100+ sporting events on FuboTV, thanks to its comprehensive sports network coverage. The Elite and Premier plans offer even more, and you get 4K streaming access to the Super Bowl – assuming you have an Apple TV 4K running tvOS 14.0 or later.
FOX Deportes, the network's Spanish-oriented channel where the 57th Super Bowl is airing with Español commentary, is also available with all FuboTV plans. If that's what you're looking for, the cheaper Latino plan on the service should serve you well.
YouTube TV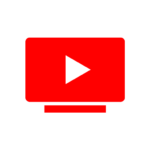 YouTube TV's Base Plan gets you 100+ top channels of live sports, entertainment, news, and more, along with recording without storage limits and up to six family profiles. Its channel lineup includes FOX and all the other NFL partner broadcaster networks, ensuring ultimate football coverage.
New users can try it for free, though the exact trial period may vary. Should you decide to keep your subscription rolling, expect a $10 discount for your first three months. There's also a cheaper Spanish Plan offering FOX Deportes and 25+ Spanish networks.
Like FuboTV, YouTube TV provides 4K versions of select channels and broadcasts, including FOX Super Bowl LVII. But to enable it, you'll need the 4K Plus add-on, which admittedly costs a hefty lot. And you must at least have the 2021 Apple TV 4K model.
Hulu with Live TV
There's nothing much to say about Hulu + Live TV other than it's the best all-in-one streaming plan for cord-cutters. The $70 monthly bill may throw you off at first, but it includes 85+ channels (including FOX, ABC, CBS, NBC, ESPN, NFL Network, etc.) and unlimited DVR, as well as access to Hulu, Disney+, and ESPN+ services.
Therefore, you're getting the best of movies, shows, and exclusive sports content, along with your favorite linear television networks. Hulu Live TV doesn't stream in 4K, but you can get the Español Add-on for an additional $5 a month to get FOX Deportes.
Vidgo
Vidgo doesn't offer any of the NBCUniversal channels, which would have been a problem if NBC was to air the 2023 Super Bowl, but they're not. Fortunately, with its Plus, Premium, and Ultimate packages, Vidgo provides FOX and FOX Deportes right alongside 110+ channels and a small selection of on-demand programming.
DirecTV Stream

Formerly AT&T TV Now, DirecTV Stream offers a range of channel packages at different price ranges. One thing common between all of them is the availability of FOX and other local affiliate stations, as well as unlimited cloud DVR storage and simultaneous streaming on the same Wi-Fi network.
We recommend going with the Entertainment plan for not only reasonable pricing but also a solid mix of sports, news, and entertainment channels. DirecTV Stream is compatible with the fourth generation of Apple TV boxes and later revisions.
Where Else Super Bowl 2023 Is Streaming on Apple TV?
For our fellow Canadians, a DAZN subscription is the easiest way to catch Super Bowl LVII live on Apple TV. The same applies if you're in Italy.
ITV in the United Kingdom is televising this year's big game, meaning Apple TV owners in the UK can stream it live and on-demand on ITVX without signing up for the Premium plan. Check out our guide to ITVX on Apple TV for further instructions.
Similarly, Channel 7 in Australia is to host the 2023 Super Bowl stream for free on its 7plus video-on-demand platform. All you have to do is register for an account and sign in to the app on your Apple TV device.
Latin American NFL fans can enjoy it on Star+, the popular Disney-owned over-the-top subscription streaming service. It promises to cover the football championship game live and on-demand coverage, but viewers must pay for the subscription.
Read also:
Final Words
If watching Super Bowl on Apple TV is your end goal, our guide should come in handy. With that said, before subscribing to any of the following live TV services, verify whether your local FOX station is available on your preferred choice of platform. You can do that by usually entering your ZIP code on the service's website and checking the adjusted channel lineup.
In case you're unable to find FOX Sports or one of the mentioned streamer apps on your Apple TV App Store, odds are it's running on an unsupported, outdated tvOS version. Installing the latest update should fix it. Simply head to Settings > System > Software Updates and click Update Software. Also, enable "Automatically Update" from the same menu.
Those with older Apple TV devices may need to upgrade to one of the newer models for the best experience.