When it comes to sports broadcasting in the UK, BT Sport has established itself as a leading player, offering comprehensive coverage of a wide range of sporting events. That changes with the BT Group-Warner Bros. Discovery joint venture finally set in motion.
As BT Sport gets a new identity and a fresh coat of paint, avid sports enthusiasts seek convenient and accessible ways to catch their favourite games. Many find themselves asking: "Is TNT Sports available on Freeview?"
Freeview, the UK's most popular digital terrestrial television platform, provides a multitude of channels to viewers without requiring a subscription. Its extensive lineup includes a range of entertainment, news, and documentary channels, leaving sports lovers curious about the availability of TNT Sports programming on this free-to-air platform.
This article delves into the topic, exploring the options and shedding light on the availability of TNT Sports on Freeview. We'll discuss the nature of TNT Sport's coverage, the platforms it's traditionally associated with, and alternative avenues you may pursue to enjoy TNT Sports content.
TNT Sports: A Closer Look
Before we explore TNT Sports' availability with Freeview, let us tell you about the BT Sport rebrand in light of the BT Group-WBD deal and what it means to you.
You may already know much about BT Sport, a premium sports television network offering an exciting array of live sports coverage, including football, rugby, cricket, motorsports, boxing, wrestling, MMA, and more. With a reputation for delivering high-quality content and in-depth analysis, BT Sport had become a go-to destination for sports enthusiasts.
However, as you've noticed, BT Sport has undergone a significant facelift recently. All the channels now bear the TNT Sports branding, which is well-known among audiences in Latin America and the United States but still relatively new to viewers in the United Kingdom.
This rebranding is a direct result of the 50:50 joint venture between BT Sport and Warner Bros. Discovery, which also holds ownership of Eurosport. As part of this sports deal, both channels will eventually unite under the TNT Sports moniker, offering a diverse lineup of global sports content for fans across the UK to stream.
Though as of now, Eurosport will continue to operate as an independent entity. This channel focuses on cycling, tennis, snooker, winter sports, and more niche sports coverage. They also hold the primary broadcasting rights for the Paris 2024 Olympics in the UK.
Where to Watch TNT Sports on TV?
Historically, BT Sport has primarily been available through traditional pay-TV and broadband providers, such as BT TV, Sky, and Virgin Media.
Even after the rebrand, these providers continue to offer the TNT Sports channels as part of the standalone add-on plan and premium sports bundles, giving subscribers access to an extensive lineup of live sports events and studio shows.
Note:
While there have been no announced price changes for legacy BT Sport customers, potential adjustments may come in the near future.
For those already subscribers to these platforms, tuning in to TNT Sports via the TV guide is a seamless process. But for viewers who rely solely on Freeview, the availability of this channel has been a point of curiosity and potential frustration.
TNT Sports on Freeview: The Current Scenario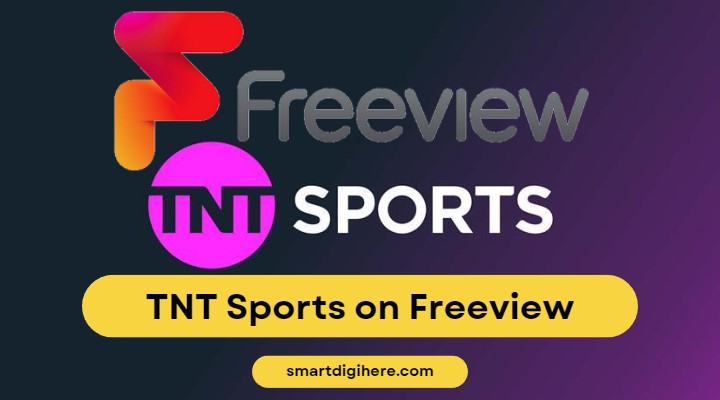 TNT Sports doesn't have a dedicated channel available on Freeview. The channel's absence on this free-to-air platform means that, by default, Freeview viewers won't be able to access TNT Sports' programming through their regular aerial setup.
BT Sport Showcase was a Freeview channel that offered a taste of the network's premium sports content. It allowed viewers to catch a glimpse of major sporting events without a subscription. Unfortunately, it has been long since BT Sport removed the channel from the Freeview lineup in 2018.
While this may come as disappointing news to Freeview users seeking TNT Sports' live coverage, you should know that Freeview offers a diverse range of channels catering to various interests, including sports. BBC, ITV, Channel 4, and Channel 5 often air major sporting events, enough to satiate the sports fix of Freeview viewers.
Other Ways to Watch TNT Sports on Freeview Devices
While TNT Sports may not be directly available on Freeview, there are alternative viewing options (not free, of course) that give you access to its sports programming without the need for a subscription to traditional pay-TV platforms.
Previously, it was the BT Sport Monthly Pass subscription and broadband/cellular providers bundling access to the streaming channel with their packages, with which users could log into the BT Sport app on their compatible devices and enjoy on-demand content.
Thanks to the rebrand, the days of the BT Sport app are limited, and Discovery+ has taken over the mantle. Yes, we're talking about the same over-the-top streaming platform that offers on-demand access to a wide selection of factual, lifestyle, and reality content from various Discovery network properties.
With its newest addition of a costlier Entertainment + Sports subscription tier, you get streaming access to TNT Sports alongside the Eurosport channels Discovery+ previously included in the £6.99 monthly plan.
With Discovery+ becoming the go-to destination for TNT Sports, you may wonder whether it's accessible on your Freeview device. The good news is the streaming app is compatible with most Freeview Play-enabled smart TVs, streaming boxes, and recorders powered by Android TV, Fire OS, and Roku OS.
Despite Discovery+ not being part of the Freeview Play suite of streaming apps, you should be able to add it to your compatible Freeview device's app store. Once you do that, visit discoveryplus.com from another device, create an account, and sign up for the subscription bundling TNT Sports, after which you open the app and log in following the on-screen steps.
If your Freeview device is unsupported, you can connect your computer, a Chromecast dongle, or any other compatible streaming device to enjoy TNT Sports (and Eurosport) live on your big screen via Discovery+.
Conclusion
While TNT Sports isn't currently available on Freeview, there are alternative options that let you tune into its comprehensive sports coverage. Thanks to Discovery+, you don't miss out on the thrill of live events and stay connected to your favourite events, even if you rely on Freeview as your primary TV platform.