Have you recently purchased a new LG-branded telly and are now looking for ways to access free channels? Look no further! This guide will walk you through how to get Freeview on LG Smart TV.
Freeview offers 95% of what you love to watch on TV, with access to roughly 70 channels (15 more in HD) and over 30 radio stations. Freeview Play, on the other hand, offers even more, with the on-demand streaming platform recently receiving a massive content upgrade and offering 60,000 hours of shows, movies, and box sets.
The best part is that, unlike Sky or Netflix, Freeview has no costly monthly subscriptions or contracts. All you need is a compatible TV with a built-in Freeview tuner or external set-top box and set it up with an aerial to gain free, unlimited access to all that goodness. And the good news is your LG TV may already support Freeview.
Does my LG TV have Freeview / Freeview Play?
Any LG television sold in the UK in recent years or the previous decade has a built-in Freeview tuner. If your particular model is "Freeview-ready", you're good to go.
If you own an LG Smart TV running webOS, odds are it also supports Freeview Play, which combines online catch-up TV and on-demand services with the broadcast channels received through an aerial.
The only exceptions are the select 2019 and all 2020 LG TV models that lack the complete suite of Freeview Play services – all due to convoluting and turbulent licensing conflicts between Freeview and LG. Fortunately, last year the two companies agreed upon a deal guaranteeing Freeview Play support on all LG Smart TVs, at least until the middle of this decade.
The easiest way to determine whether your LG television supports Freeview Play is by visiting Channel 100. It'll open the Freeview Play interface from where you can access all the catch-up and on-demand players (e.g., BBC iPlayer, ITVX, All 4, My5, STV Player, UKTV Play, and more), search for your favourite shows, films, and box sets. You get to discover new content from personalised recommendations too.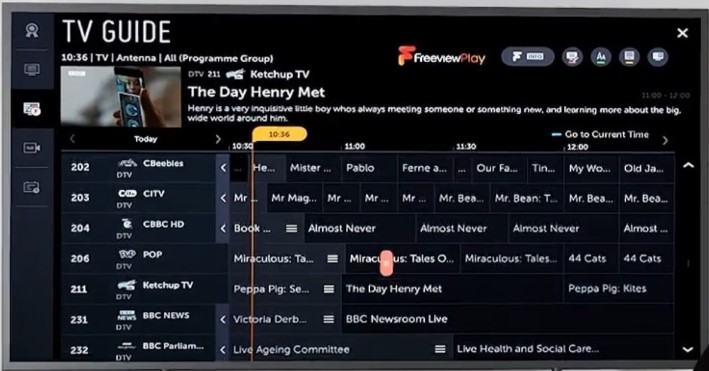 How to Get Freeview Channels on LG TV?
Getting Freeview channels on your LG TV is straightforward – assuming you already have the compatible equipment. Follow these steps to learn how to set up your LG TV with an aerial to receive Freeview channels:
Locate the aerial port on the back of your LG TV. It should be labelled "Aerial In" or "Antenna In" or something similar. Plug one end of the aerial cable securely into your TV jack. The other end goes into the aerial outlet.
Now power ON your LG TV and switch to the Aerial or RF Then, press the Quick Settings button on your TV remote, symbolised by a cog icon.
After that, navigate to the bottom of the overlay and click All Settings (three-dot icon).
Select Programmes on the left-hand side of the Settings menu, followed by Programme Tuning & Settings on the right.
In the "Programme Tuning" menu that appears, click Auto Tuning. Then, choose Antenna on the next screen and click Next.
Ensure the box is ticked next to "Digital Only Search" and continue by clicking Next.
Your LG TV should begin scanning for channels, which may take a few minutes to complete. Once the scan finishes, click Done.
You've successfully tuned your LG TV, and the Freeview channels are now ready to view. All that's left for you to do now is relax and enjoy switching through your favourite networks, though It'd be irresponsible of us not to remind you about the TV license fee you also must pay.
In terms of what Freeview channels you can get, it varies depending on your area. Feel free to use the official Freeview Channel Checker tool – where you can enter your postcode and house number to check the predicted aerial coverage at your location.
Even the Red Button functionality is available with Freeview, for those wondering. For example, when watching BBC, pressing the Red button on your LG TV remote will give you access to additional programmes like news, sports highlights, lottery results, weather forecasts, etc.
Regarding the aerial
To get Freeview on your LG TV, you must configure the aerial under proper weather conditions, pointing directly towards the nearest broadcast tower. Although portable or loft indoor aerials can pick up Freeview signals, they're prone to interference from domestic electronic appliances. We recommend using an outdoor/roof aerial to get most of the channels at the best quality.
It's also ideal to use a "Type T" or "Type W" wideband aerial, as it covers the entire signal range used for digital over-the-air digital television in the UK. Hence, even if there are changes to Freeview signals in the future, the aerial will continue working. Fortunately, most aerials manufactured within the last decade are likely to support wideband.
If you're getting fewer Freeview channels than expected or none at all, repeat the above steps to retune your LG TV. If retuning doesn't work either, check your TV's aerial port and the end of the cable for bent or damaged connectors. Ensure the aerial lead is plugged into both ends firmly, and re-position the aerial in the right direction.
Poor reception or blocky picture quality can be a result of interference caused by 4G cellular services, especially in densely populated areas. Installing a 4G filter between your aerial lead and TV can resolve such issues. Restore TV will send you one for free if you use its tool to detect 4G interference in your area.
For further troubleshooting advice, get in touch with a qualified aerial installer, as they may have extensive knowledge of your area and offer the best technical assistance. To find certified aerial installers nearby, visit getmeviewing.org.uk and enter your postcode in the search box.
Can I get Freeview on LG Smart TV without an aerial?
Besides watching your favourite shows on the OTA channels through the TV guide using an aerial, you can view select channels on your LG TV without one – provided it's Freeview Play-certified and connected to the internet via Wi-Fi or LAN cable.
Furthermore, you can browse and stream thousands upon thousands of hours of the best British television via some of the UK's live and on-demand streaming players. Examples include BBC iPlayer, ITVX, All 4, My5, POP Player, STV Player, UKTV Play, Horror Bites, CBS Catch-Up Channels UK, and many more.
Like the Freeview broadcast channels, all these services offer free, ad-supported streaming content. When browsing the TV guide, you can scroll back to view the past broadcasts on a particular channel and choose the programme you wish to catch up on.
On your LG Smart TV, you may also download premium streamer apps like BritBox, NOW, Netflix, and Prime Video and sign up for a subscription for additional premium on-demand TV shows, limited series, blockbuster movies, live sports, and more.
Of course, you'll need a broadband internet connection of at least 5 Mbps to access all the catch-up, live, and on-demand content via Freeview Play on your LG TV. But if you only wish to watch the terrestrial Freeview channels, you don't require an internet connection.
Wrapping Up
Since its debut in 2002, Freeview has been the staple feature for TVs and DVRs in the UK, enabling free television to over eleven million users across the United Kingdom.
Freeview Play, the company's connected hybrid TV service, continues improving the search and discovery experience, offering decades' worth of endless back catalogues, including the latest catch-ups for the nation's most popular programmes, films, complete box sets, and more – at no extra cost.
With just a few simple steps, you can get Freeview on LG Smart TV and access a range of free channels and services without needing a subscription. So, sit back, relax, and enjoy your favourite shows, movies, and sporting events on your big screen.