HBO Max is no more, long live Max. The ambitious, messy merger of WarnerMedia with Discovery Inc. last year resulted in this rebrand. With the rebranding came a particularly rough launch and notable changes in the subscription model.
Making up for unwanted changes is a bevy of new content from Discovery networks, i.e., ID, Food Network, HGTV, and TLC, and an exciting slate of original programming, alongside HBO Max's catalog of hit shows and blockbuster films from existing Warner Bros. properties.
Whether you're looking forward to watching recent hits like The Last of Us, House of The Dragon, or Barry, reminiscing over classic dramas and sitcoms, or re-binge your favorite lifestyle and reality shows, Max is your ultimate destination.
And what better way to enjoy Max's captivating shows, miniseries, movies, and originals than on your large, premium Hisense TV? This guide will tell you all you need to know to install and activate Max on Hisense Smart TV.
What's new with Max?
To begin with, if you were previously paying for HBO Max, your Max experience will undergo minimal changes. You can still enjoy all your beloved content, keep track of your watch history, maintain your My List queue, and manage your profiles as before. The app layout and design have slightly changed, but it should still feel familiar.
The good news is Max now incorporates the Discovery Plus library, adding an exciting lineup of lifestyle, reality, and documentaries from TLC, HGTV, ID, Magnolia Network, CNN, and many others. Importantly, your subscription cost remains unchanged; you'll simply have an expanded selection of programs to enjoy from.
Not all aspects of the transition bring improvements. Those paying for the Ad-Free plan will see changes to their benefits. The subscription price remains the same but with trade-offs: no more 4K streaming and a reduction of simultaneous device streams from three to two.
Compensating for these cutdowns is the new, costlier Ultimate Ad-Free plan, which offers the ability to stream content in 4K HDR with Atmos surround sound, the option to download up to 100 titles for offline viewing (on mobile devices), and the freedom to stream on four devices simultaneously.
The changes to the benefits and pricing align Max with the likes of Netflix and Disney+. For those wondering, the new subscription model takes effect in about six months (from Max's May 2023 launch), so legacy subscribers won't have to worry.
How to Install Max on Hisense Smart TV?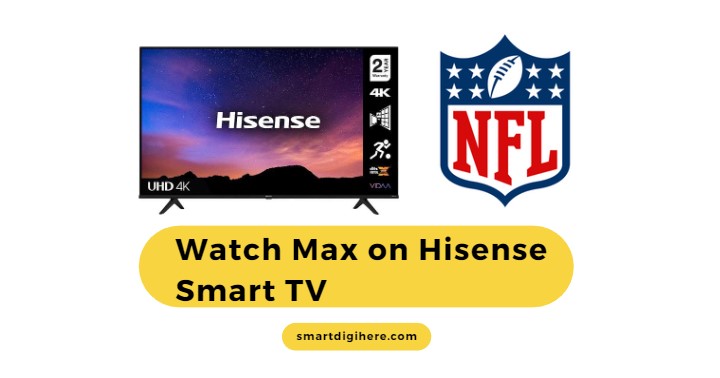 Hisense is one of the few television makers that offer models running on various Smart TV platforms, including Android TV, Google TV, Fire TV, Roku, VIDAA OS, and XClass. Max supports all the following except for VIDAA-powered models.
We've provided step-by-step instructions to install and access Max on all supported Hisense Smart TVs. Follow the ones corresponding to your particular model:
Hisense Android TV
Navigate to the Apps tab from your Android TV Home screen. Long-pressing the Home remote button also works.
Find and launch Play Store from your row of installed apps. Or click the "Open the Google Play Store" banner at the top.
Head to the Search tab at the top and use your preferred input method (mic or on-screen keyboard) to search for "Max."

Finally, hit the Install button above the description section.
You should be able to access Max from the bottom row of the "Installed apps" section in the Apps screen. Highlight the app, long-press the Select button on your Hisense TV remote, and select Add to Favorites for quicker access from the Home screen.
Hisense Google TV
Head to the Search tab from your Google TV Home page.
Say or type "Max" in the search field, then pick the matching app from the results.
Click Install to get the Max app.
To open Max on your Hisense Google TV, navigate to the Apps tab from Home and scroll down to the "Your apps" row. If you still can't see the streaming app, move to the right of the row and click See All.
Hisense Fire TV
Go to the Find tab from your Fire TV Home screen and click the Search
Search for the "Max" app and choose the matching result on the following screen.
Select Get or Download on the overview screen.
Return to your Fire TV Home and select the three-dot (⋯) icon on the right of your pinned apps. Then scroll down to the bottom of the "Your Apps & Channels" row to find and open Max.
Hisense Roku TV
Scroll down the Roku Home screen and select Streaming Channels.
Move to the Search Channels option and enter "Max" with the on-screen keyboard.
Choose the Max app and then select Add Channels on the next page.
You can access Max from the channels list on your Roku Home screen.
Hisense XClass TV
If you have an XClass-powered Hisense Smart TV, press the Home button on your Hisense TV remote, scroll down to the Apps row, and select Max. There's no installation required.
Related Max Articles:
How to activate Max on Hisense Smart TV?
Regardless of the Hisense Smart TV model you have, signing into Max is the same process. Simply open the app and click Sign In. You can then scan the QR code displayed on your TV with your phone camera or visit max.com/signin from your computer browser and enter the TV code to continue the login process.
You can also choose to Use Your Remote and enter your Max (or HBO Max) account details if you don't find it cumbersome. The app may also give you the "Link With Wi-Fi" option if you're logged into Max on your phone or tablet on the same Wi-Fi network as your Hisense Smart TV.
Of course, you must have a Max account alongside an active monthly/annual subscription to access the on-demand titles. Visit max.com from your browser, click Sign Up Now, choose your preferred plan, and provide the necessary details to create your account and pay for the subscription.
Note:
If you get Max with your TV, internet, or mobile provider, you can link your provider credentials and enjoy your subscription's benefits.
Once you've successfully logged into Max on your Hisense Smart TV, choose or create your profile, and you're ready to binge your favorites and the latest Max originals. With a Hisense UHD TV and the Ultimate Ad-Free plan, you can also enjoy select titles in 4K HDR.
Have fun Streaming Max on Hisense Smart TV!
Max, Warner Bros. Discovery's new streaming service, seamlessly blends your beloved HBO titles with over 35,000 hours of fresh content from Discovery-owned networks and several popular WBD properties.
With Max on Hisense Smart TV, you can stream from a massive catalog of shows, movies, original series, documentaries, and animated programs. Our guide will help you do so, but if you run into any problems, check out our Max troubleshooting guides or leave a comment below.