On July 2023, TNT Sports started airing in the UK and Ireland instead of BT Sport, marking the most significant shift in sports broadcasting in the last decade of English television. This BT-Discovery venture aims to be the ultimate place for fans to enjoy their favourite sports.
With a fresh, modern brand, a fantastic new team of on-screen talents, more programming for viewers, and easier ways to subscribe and watch, TNT Sports is just the beginning of a new connection with sports fanatics.
TNT Sports also retains the same coverage rights as BT Sport. It includes top-tier events like the Premier League, UEFA Champions, Europa League, Conference League, Premiership Rugby, EPCR Challenge Cup, and the Champions Cup, on top of MotoGP, cricket, boxing, UFC, WWE, and more.
The best part is you can subscribe to TNT Sports and catch the year's most exciting sports action with EE, one of the UK's largest wireless carriers. If you're an EE mobile customer, this guide is for you. Here's everything you need to know regarding TNT Sports on EE.
How to Subscribe to TNT Sports on EE?
TNT Sports is available via providers outside of BT, with EE being one of them. As an EE customer, subscribing to TNT Sports is straightforward. All you have to do is text "SPORT" (without the quotes) to 150 from your phone and follow these steps:
Reply to the message to confirm you want TNT Sports. You'll immediately receive a link to the "My EE" login page.
Tapping the provided link should open up your web browser. Sign in with your My EE account credentials on the following screen.
Select Add-ons on the app's Home page and look for TNT Sports on the list.
Choose TNT Sports in the Add-On section and follow the on-screen steps to start your subscription.
Upon successful order, follow the link in the SMS message from EE, and tap the Activate It'll take you to the Discovery+ site to make an account.
If you're on one of EE's Small Business, All-Rounder, or Full Works plans, you can add TNT Sports as an Inclusive Extra. Simply text "PICK" (without the quotes) to 150, select TNT Sports, open the provided link, and sign in to your My EE account.
For those already using the My EE mobile app, navigate to Menu > Plans > Inclusive Extras & add-ons, tap Inclusive Extras, and select the TNT Sports on Discovery+ pass, after which you follow the on-screen prompts to activate your Discovery+ account.
Note:
EE Business Connect customers can't access TNT Sports. You'll need to upgrade your plan for that.
Why Does TNT Sports on EE Require Discovery+?
For those wondering why TNT Sports on EE requires creating a Discovery+ account, it's the new streaming home to the sports channels. You also get access to Discovery+ Premium at no extra cost for the entire duration of your add-on subscription.
Besides TNT Sports, you can catch Eurosport's live coverage of even more sporting events, such as the Olympic Games, winter sports, cycling Grand Tours, tennis Grand Slams, etc. Plus, you get to stream exclusive originals, documentaries, and all the top reality, lifestyle, paranormal, and true crime shows from Discovery and its sister networks.
How to Watch TNT Sports on EE?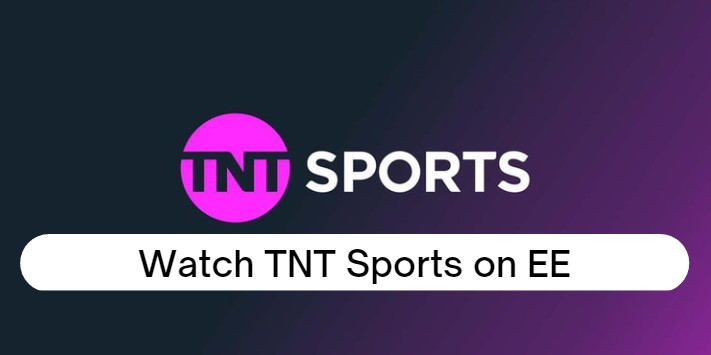 Once you activate TNT Sports on Discovery+ through EE, head to your device's app store and download the Discovery+ app. Once you sign in with your account credentials, you can start watching your favourite sports on TNT Sports and Eurosport, live and on-demand, on any device you want as long as it's supported.
The Discovery+ app is available for a wide range of devices. It includes most phones and tablets (Android and iOS) and many popular connected TV devices, e.g., Android TV, Apple TV, Fire TV, NOW TV, Roku, and Smart TVs from LG and Samsung.
The previous and current-gen PlayStation and Xbox game consoles are also supported. And even when you can't get the Discovery+ TV app, you can cast the TNT Sports streams from the mobile app to the big screen via Chromecast or AirPlay. Alternatively, connect your PC or laptop to your TV over HDMI and watch via your web browser.
We've posted quite a few dedicated step-by-step guides to watching TNT Sports on some of the compatible streaming devices mentioned above. Be sure to check them out.
Of course, you'll need a minimum of 10 Mbps download speed for a smooth, uninterrupted live sports streaming experience in high definition. For those on the go, you may want to get the Entertainment Data Pass add-on as an Inclusive Extra on EE. It's so you don't end up exhausting your daily data cap while watching TNT Sports.
How Much Does TNT Sports on EE Cost?
The TNT Sports on Discovery+ add-on costs £20 per month. As mentioned above, it isn't limited to use only on your phone or tablet, as you can also log in with your Discovery+ ID and password on connected TV devices.
When you subscribe to TNT Sports via EE, they'll add the subscription cost under your monthly mobile bill's "Add-ons" section. Note EE won't bill you until you've finished authenticating your Discovery+ account.
Also, If you add the TNT Sports package in the middle of your monthly billing cycle, EE will only bill you for the days left till the next billing date for the first month. For those getting it as part of an Inclusive Extra but are already paying for Discovery+ Premium, EE will override and replace it with their add-on version.
What Happened to BT Sport on EE?
If you haven't followed the broadcasting world's changes, it's okay – you might not have noticed that BT Sport has undergone some changes.
It's because of BT and Warner Bros Discovery's new joint venture to bring BT Sport and Eurosport brands together under a new name. While Eurosport remains separate at the time of writing, it'll eventually become a part of TNT Sports.
With that said, BT Sport and TNT Sports are essentially the same. The latter continues to present the same lineup of sports programming its predecessor previously carried, though there have been some changes in new presenters for studio shows.
As for those paying for BT Sports on EE prior to July 18, 2023, you should already have upgraded access to TNT Sports via Discovery+ Premium, with the only change being the add-on name in your monthly EE mobile bills.
Head to bt.com/sport/discovery-plus from your device and follow the on-screen prompts to verify and activate Discovery+ with your BT ID email and password.
Also Read: Watch TNT Sports on Freeview
Final Words
That's all you need to know about TNT Sports on EE. Even though BT Sport is no longer here, the way you enjoy your favourite sports they used to show hasn't really changed. If anything, now it's even more convenient with TNT Sports on Discovery+, which is home to non-stop, on-demand entertainment.
When you wish to cancel TNT Sports on EE, which you can do at any time, simply text "STOP SPORT" (without quotes) to 150 from your EE mobile number, then follow the provided link and on-screen instructions.